Is Shopify better than Etsy? The two solutions Shopify vs Etsy are distinctive in their own ways and are both worth spending time and money on.
Shopify, regarded as the best eCommerce platform, this tech giant allows you to create powerful web stores. Meanwhile, Etsy operates as a marketplace where e-merchants register for online kiosks, sharing space for selling with others.
Facts and figures never tell lies, so in this case, when looking at them, we may say that Shopify is better than Etsy. However, this is not true in all circumstances, it should always be bound to how users plan for their business, set goals and budget, etc. To get a clear answer for you, this article will cover:
Let's get started!
---
Shopify vs Etsy Overview
What is Shopify?
Founded in Canada in 2004, Shopify has since grown and developed to become one of the best eCommerce platforms. Shopify is a fully-hosted solution, making it simple for you to get up and running with your own online store.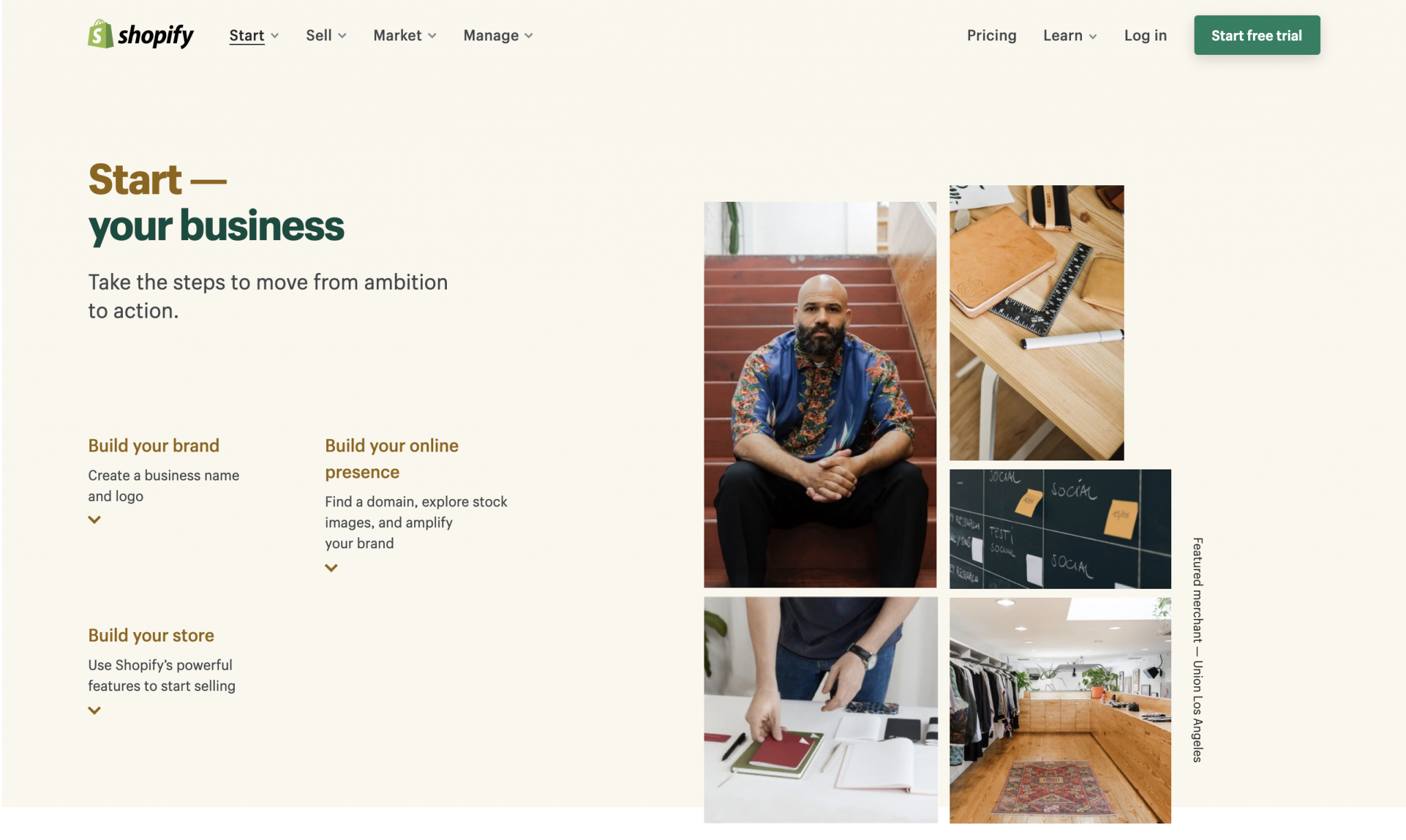 As of Feb 2022,  Shopify is currently powering over 1.5 million live websites, which gives e-merchants unprecedented capabilities while maintaining a smooth and pleasant user experience. Its main purpose is to enable merchants in quickly create their own websites and start to sell without the need for technical knowledge.
Quick update on Shopify 2022: This platform is going to have an update on the 2021-04 API version, the oldest supported version as of January 1, 2022.  These changes will come into effect on our APIs for both public and private apps. For more information, you can read this article.
What is Etsy?
On the other hand, Etsy has been a very popular marketplace site since its introduction in 2005. Like Amazon and eBay, you will register an account to create spaces for displaying your products.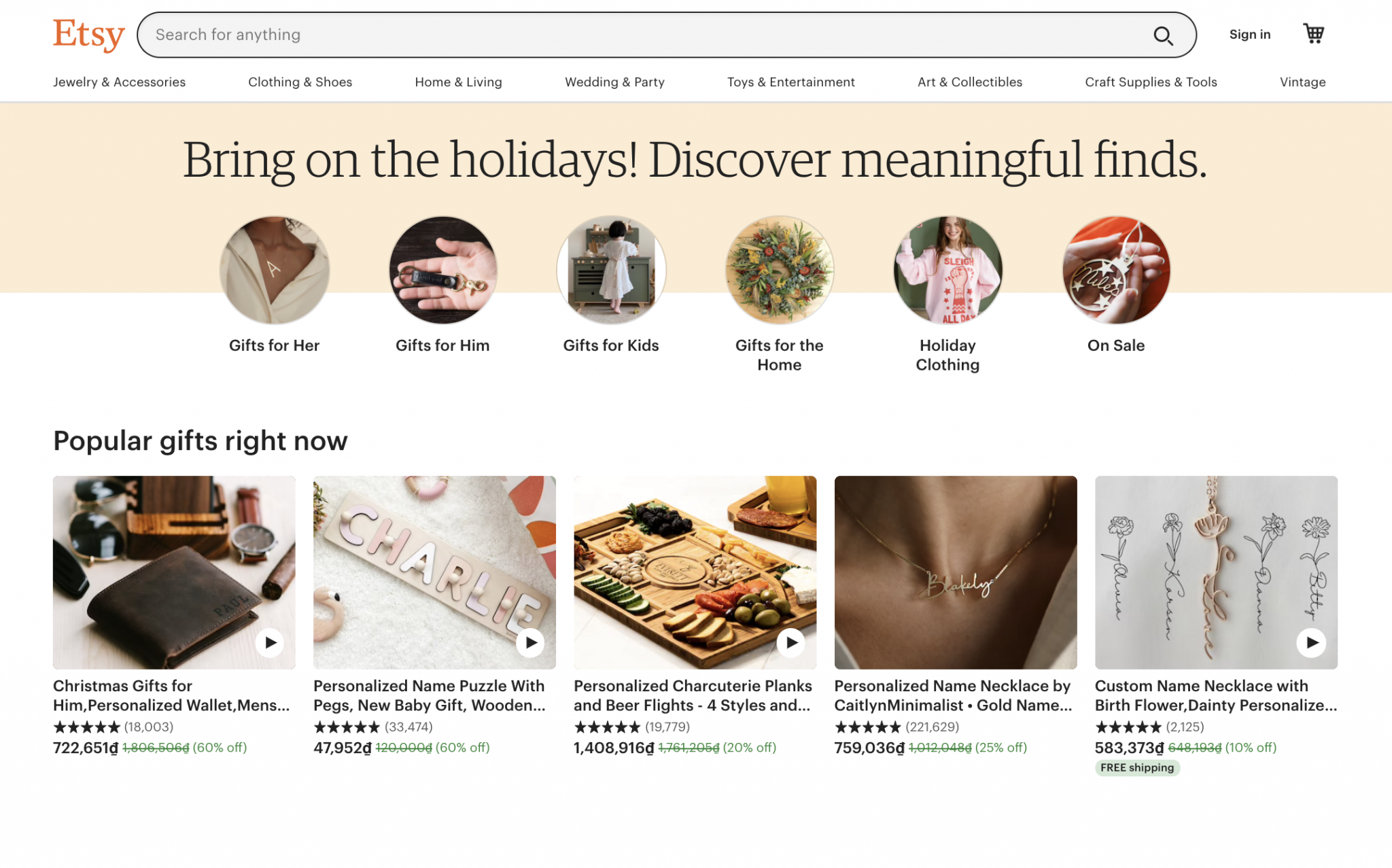 For those who want to start small, Etsy shopping online would sound very good. The marketplace will make you give the most concentration on developing your products, customer retention, and promotions. However, it comes along with a lack of the ability to manage your store, grow your brand and scale up, which we will discuss later in the article.
Etsy Pattern – the website platform edition of Etsy was launched in late 2016, allowing people to sell custom goods on their own standalone websites. With Etsy Pattern, you have fewer restrictions on products than the Etsy marketplace. You can try Pattern for 30 days for free and then subject to a monthly fee of $15.
Fortunately, thanks to the online marketplace nature, it would be ideal when selling on Shopify vs Etsy at the same time. The ability to manage inventory and orders is more convenient when integrating your Shopify online store with Etsy. An Etsy listing tool not only helps to integrate Etsy with your Shopify store but also reduces tons of repetitive work.
---
Shopify vs Etsy: Pros and Cons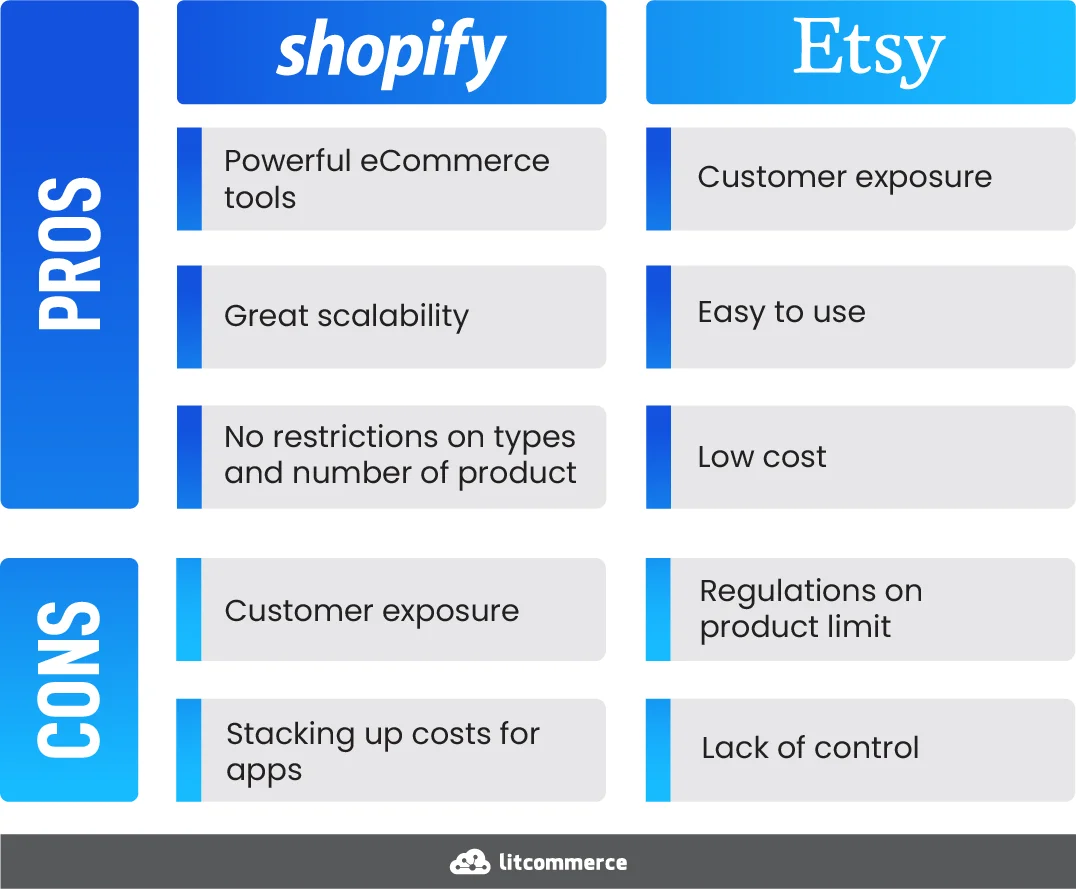 What are the pros and cons of Shopify?
Pros:
Powerful eCommerce tools: Shopify provides you with a complete set of powerful eCommerce tools, covering any aspect of online business growth. Some of the essentials include a complete inventory management system, abandoned cart recovery, flexible payment options, and more.
Great scalability: Shopify varies its plans for all types of business sizes, from small, medium to large. You can control how your brand grows, choose the upper grade for more features and add apps.
No restrictions on types and number of products: With Shopify, you can sell any type of product (physical goods, digital products, subscriptions, etc.) without the existence of quantity limits.
 Cons:
Customer exposure: Selling with a standalone website, you will be the one who is totally in charge of SEO, ads, and email marketing so as to display your products to your customers as much as possible.
Stacking up cost for Apps: For the need of growing your business, you might have to purchase lots of apps to add functionalities.
What are the pros and cons of Etsy?
Pros:
Customer exposure: As a marketplace possessing very high popularity, Etsy helps its merchants immediately approach a large number of customers
Easy to use: You simply register for an account, upload product images, set prices and promotions then roll out!
Low cost: With the Standard plan, you will pay for listing products and transaction fees. Aside from that, you don't have to pay any extra monthly charges.
Cons:
Product limit: There are regulations on what types of products you are allowed to sell on Etsy. This is mainly to guarantee that Etsy is a marketplace of distinctive, including handcrafted, vintage, and unique products.
Lack of control: You will be sliding products along with other sellers in the same place and won't be able to modify the look of your storefront. This makes it hard for you to approach customers via visual attraction and must rely mostly on ratings.
---
Shopify or Etsy: Which One is Better?
#1 – Shopify fees vs Etsy fees
Shopify fees
New to Shopify? Don't worry, you can first experience Shopify's 14-day free trial. There shall be very friendly onboarding instructions so you can quickly learn what you can do with Shopify. After that, you need to pay for Shopify in a 3-tier pricing plan corresponding to the 3 levels of scalability.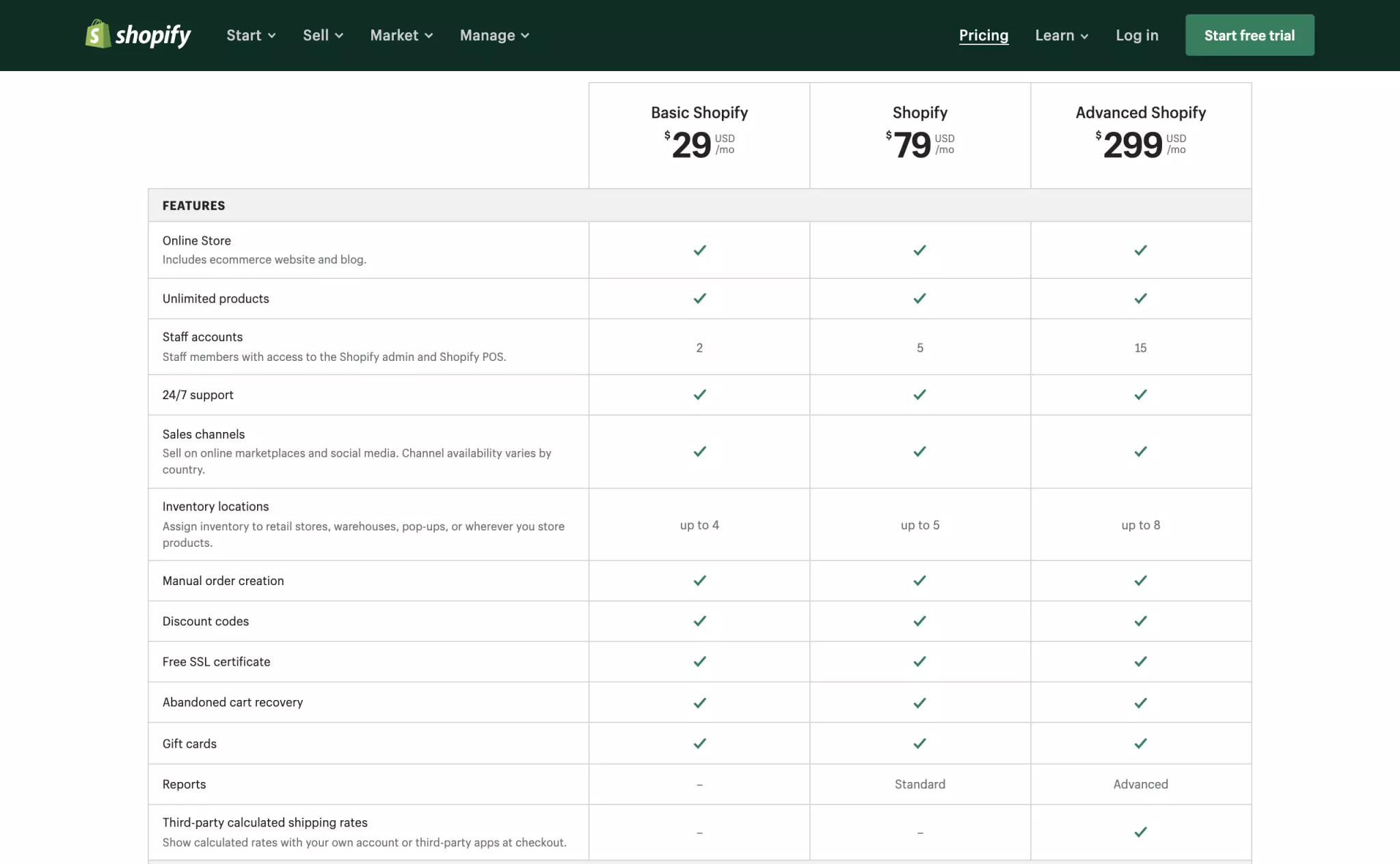 Shopify's three main plans are:
Basic Shopify – $29/month
Shopify – $79/month
Advanced Shopify – $299/month
The higher plan you choose, the more features you can unlock.
Other than the monthly pricing, Shopify also charges transaction fees for each plan. If you go for Shopify Basic, the platform charges $2.9 + 30 cents per transaction. The fee is reduced to $2.6 + 30 cents with the Shopify plan and $2.4 + 30 cents with Advanced Shopify.
Registering for an annual plan could save a lot of money in the long term for your business. You can save 10% by signing up for an annual subscription, and 20% by selecting a two-year contract.
Etsy fees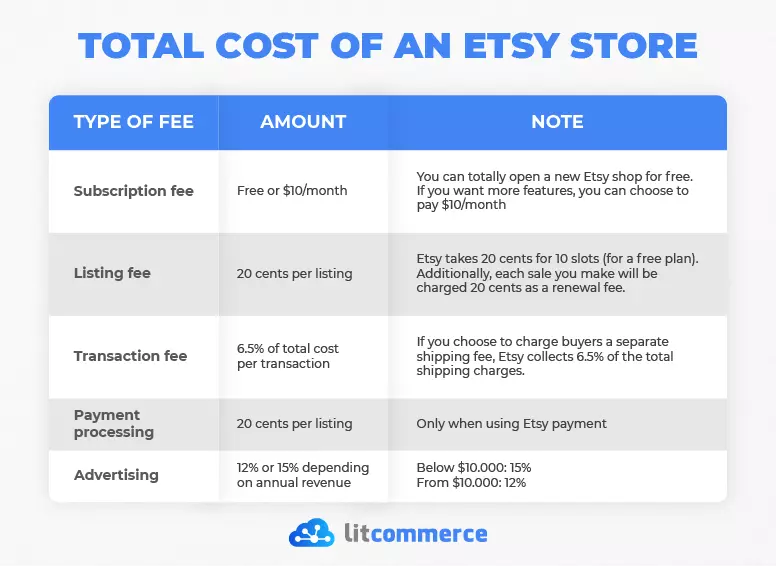 "Is Etsy free?" is the common concern of many sellers. However, Etsy charges a little fee when you list products or complete an order on Etsy. With Etsy's standard plan, you don't have to pay for monthly operating expenses. But you must spare part of your earnings on listing and transaction fees. The specific number for listing charges should be $0.2 per product listed. This number will cover the cost of publishing and displaying your product for months or until it's sold.
On every item you sell, you will be charged a 6.5% transaction fee and an additional 3% plus $0.25 for payment processing. Along with that, Etsy offers offsite ads to promote your products and you only have to pay when you make a sale from those ads.
Finally, you can choose to pay for the upgrade version of Etsy – Etsy plus. It's where you'll get an expanded set of tools to help jump-start growth and express your brand. For more information about Shopify fees vs Etsy fees, you can check out our detailed comparison between these two platforms.
> Verdict: The main advantage of using Etsy over Shopify is that you don't have to pay monthly fees, however, the transaction fees are very high compared to Shopify's. In the comparison of selling on Shopify vs Etsy fees, Shopify wins this round thanks to its functionalities that help merchants build a complete online store with affordable pricing plans.
---
#2 – Ease of use
Shopify – Ease of use
Whether you've had experience on selling on other eCommerce platforms or are an online business beginner, Shopify makes it super simple for you to get up and running. It's easy to understand because hosted solutions like Shopify are so much easier than self-hosted solutions. Shopify is not the easiest platform on the block but makes setting up an online store a breeze. You won't get a site live in 5 minutes, of course! But Shopify manages to combine powerful eCommerce features with an easy-to-use editor, even for total beginners.
After registering an account on Shopify, you can follow its intuitive instructions to set up your store. Basically, there are 3 primary steps you will have to go through including adding products, designing your store, and configuring settings. We've created a tutorial to set up Shopify fast for beginners, you can have a look here:
Etsy – Ease of use
Things are even a lot easier with Etsy. All you need to do is to sign up and upload your products and information, then be ready to go! The most time-consuming process probably is when you upload products, it requires a lot of information. Etsy's overall setup costs need less effort compared to Shopify. Therefore, it would be ideal if you are looking for speed and simplicity in selling online.
>> Verdict: Is Shopify better than Etsy? Well, when it comes to Shopify vs Etsy's ease of use, Etsy is absolutely the winner. This marketplace lets merchants list and sells products in a matter of minutes compared to Shopify. Shopify is still easy to set up but you have to scale up over time as your sales increase.
---
#3 – Domain and URL structure
Shopify
Registering to sell on Shopify, you will be asked to create a domain name for your website. During the trial period, there's an additional "myshopify" in your website's address. The address may look uncomfy for you but once you pick a plan, you'll immediately get your custom domain name without the "myshopify" standing in between. It also means that you are the owner of that domain, it's unique to your website, making it a powerful part of your brand. A custom domain name on Shopify costs $11 per year.
It should look like this:
| | |
| --- | --- |
| Free trial | Official |
| www.shopname.myshopify.com | www.shopname.com |
Shopify encourages you to create custom domains for your websites. It's a crucial part of identifying that your brand is trustworthy, recognizable, and professional. It also helps customers find your websites a lot easier in comparison to stores in a space-sharing environment. Having a standalone website with a custom domain creates chances for you to put the effort into SEO, which is very important for steady growth in the long term.
Etsy
Selling on a marketplace like Etsy, you can't have a custom domain like what Shopify has on offer. Instead, your store's address should look like this: www.etsy.com/shop/shopname. This may lead to situations where your customers must browse through pages before coming to your store. Plus, it is not convenient if you are planning to build a brand.
>>> Verdict: Shopify helps merchants clarify their brand name better than Etsy does. With Shopify, you will have complete access to all customer data and grow your brand identity. Meanwhile, on Etsy, even if your products are unique, it's extremely challenging to develop brand awareness or differentiate your business.
---
#4 – eCommerce features
When selling on Etsy vs Shopify, the availability of eCommerce features is a must. It decides whether or not you will get covered with the ability to manage your business and get more sales.
Shopify – eCommerce features
With Shopify, it's amazing how the abundance of features this all-in-one solution provides sellers even in its standard plan. Here we have a list of some of the features coming along with every plan on Shopify, including:
Gift cards
Discount codes
Shopify point of sale
Abandoned cart recovery
SSL certificate
Overview dashboard
Finance report
Fraud analysis
Blogging
Inventory and order management
Unlimited bandwidth and online storage
Among these above features, multi-channel selling is pretty important to help you expand exposure to potential customers.
Abandoned cart recovery reminds customers if they almost finished a purchase but decided to leave the checkout page (unknown reasons). This helps you make sure there are no sales slipping away from your pocket.
SSL certificate is crucial for secure transactions on your website. This thus contributes to trust-building and credibility with prospects. You will have the default authentication of an SSL certificate on every plan you choose.
Etsy – eCommerce features
At this point, Etsy does it well by gearing you up with toolkits to help you manage your store with ease.
You can use the "Sell on Etsy app" to manage orders, update items, and respond to your customers on the go. Etsy also provides promotional tools that drive traffic, enlarge the customer base, or draw more followers for brand building.
Analyzing performance is crucial for any business and Etsy knows that at its best. In fact, Etsy provides you with the analytics report feature by default on every plan, showing detailed statistics on performance trends and traffic sources.
By upgrading to Etsy Plus, you will get access to more features:
Create your own domain
Advanced shop customization such as multiple banners and layout options
Access to discounts and perks
Item availability email alert to customers
>> Verdict: Looking at eCommerce features alone between Shopify vs Etsy, Shopify certainly wins over Etsy. The greater availability of features in Shopify may come along with higher fees compared to Etsy. If you want to keep it simple and small then Etsy's basic features are good enough.
---
#5 – Design flexibility
There should be no denying that design flexibility is not a strength for both Shopify vs Etsy. However, there are significant differences between the two to look at. And that Shopify still has more in stock to make your web design more attractive.
Shopify
With Shopify, you will get access to 80 themes including both 10 free and 70 paid. All of these themes can be found on the Shopify themes store with continuous updates of new themes available.
Once you have selected a theme, you can customize the content section on the home page. Moreover, all Shopify themes are made SEO and mobile-friendly, which is very important to improve user experience. You can swiftly switch between themes anytime you like, however, some themes require content reformatting.
Shopify themes serve many business types so you can choose the most suitable for your website, ranging prices for paid themes from $150 to $350.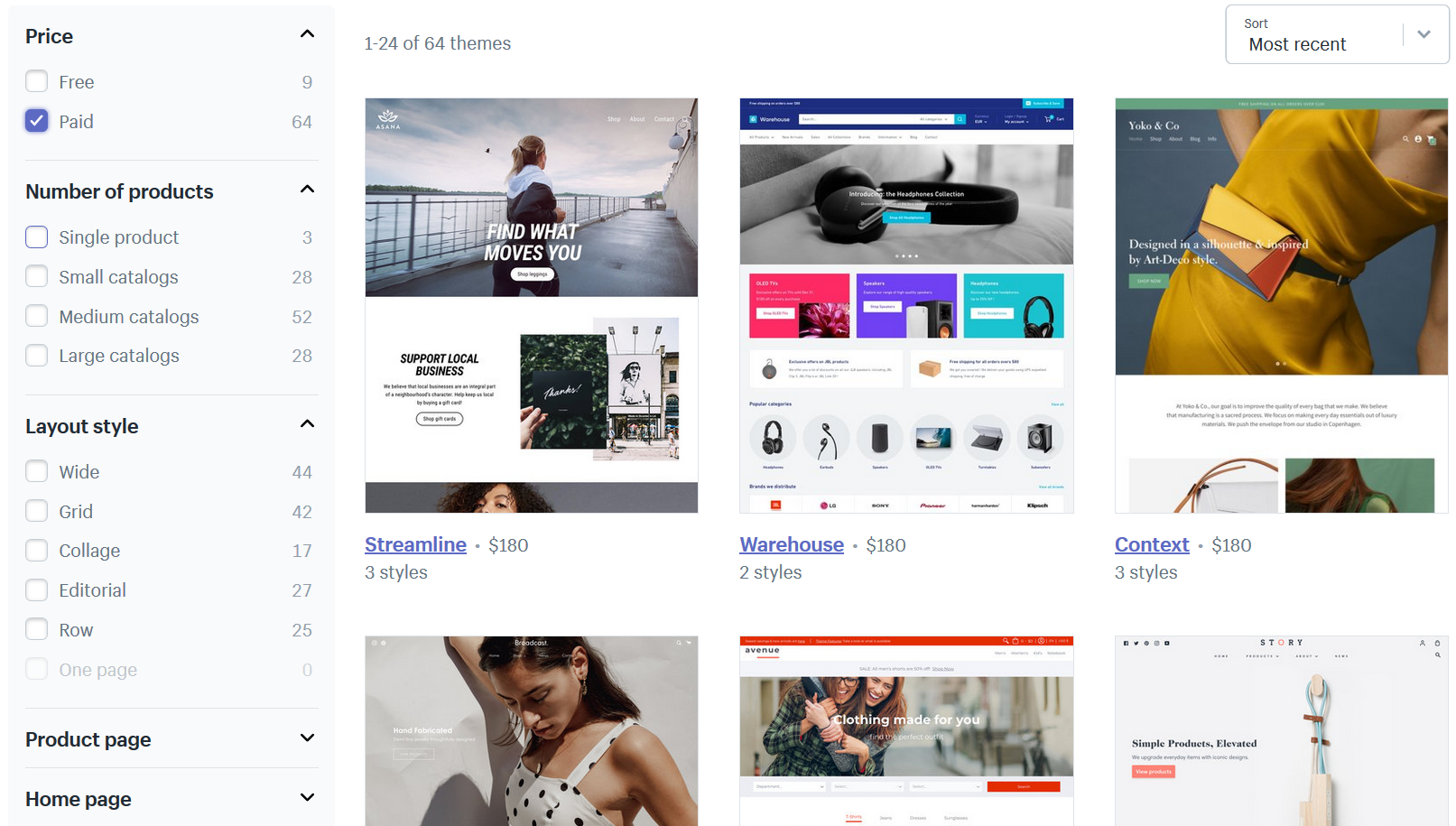 Etsy
In contrast, your store will follow Etsy's layout and design. The lack of design interference is sometimes a good way to get rid of worries. You can rest assured that Etsy will always apply the best it can give to make your store clean, responsive, and attractive.
You don't have any room for customization on Etsy. All you can do is fill in your store name, upload logo and product images, adding descriptions. By the way, to get it done fast, use a logo maker, if you don't have a logo yet.
>>> Verdict: Very clear that, with these few options on Etsy, it's hard to make your store the center of attention in terms of design. Meanwhile, you can pick a free or paid theme from Shopify with many advanced features to sell online.
---
#6 – Help and support
People at Shopify are enthusiastic about helping sellers to have their problems solved quickly. For upper plans, you can even access support from your own support team. Shopify offers help on different channels to select the best option for you. Specifically, it offers:
24/7 phone support
Social media support
24/7 live chat support
Community forum
Email support
Help Center
Video tutorials
Advanced specialist support
With Etsy, the options are less diverse. You can find answers to your problems in the Help Center, where information is displayed very clean and clear. Etsy has an active forum where you can join discussions and receive great advice from other users. Email or direct phone contact is also on the list you can rely on for support.
>>> Verdict: Shopify clearly wins the round thanks to its dedicated support system.
---
Shopify vs Etsy: Final Comparison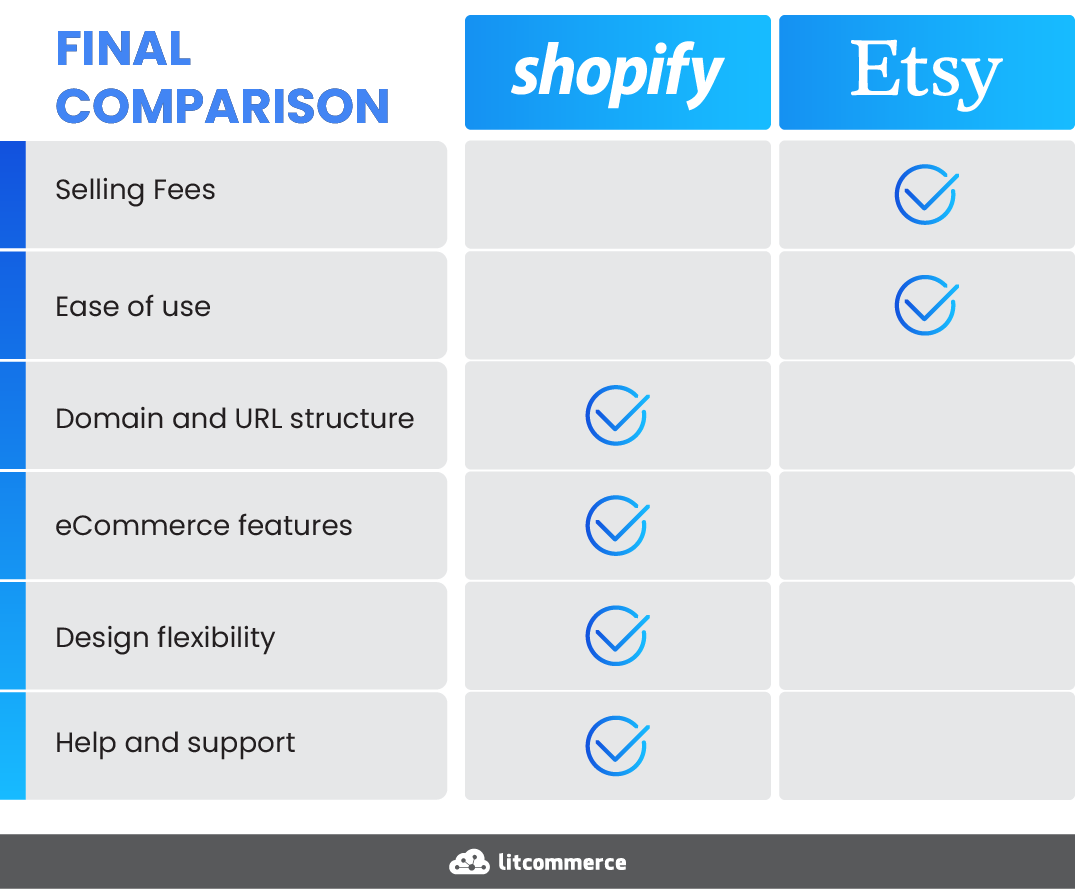 Despite the fact that Etsy is less expensive and easier to use right out of the box, Shopify wins out in the end. That's because you need an eCommerce platform that will work for you when you start selling online as well as scale up when your sales increase. Shopify outperforms Etsy on both counts. Sure, Etsy could be a great alternative if you run a small business. However, if you want to significantly grow your sales, Shopify is the perfect platform for you.
---
Shopify vs Etsy: FAQs
How do I add Shopify to my Etsy shop?
Using both Shopify vs Etsy for your business is literally the definition of synergy. This is super effective when you want to diversify your presence on the internet. Combining the use of Shopify vs Etsy helps you reach more audiences and make the most of the famous marketplace.
By using the Etsy Marketplace Integration app, you can integrate the Etsy marketplace with your current Shopify store within 4 simple steps:
1. Create a LitCommerce account
2. Create a seller account on Etsy
3. Integrate your Shopify store with Etsy
4. Turn on inventory sync, pricing sync, and orders sync
Can I sell Etsy products on Shopify?
Generally, publishing products on your Shopify store is done by manually importing products or using CSV files. However, this process might take time and cause unwanted errors especially when you sell on various marketplaces. As a result, LitCommerce app allows you to publish products from Etsy on your Shopify store within a few minutes and requires no technical skills. For detailed info, please follow our guidelines.
---
Final words
Finally, we have delivered everything you need to know about Shopify vs Etsy. We bet that, by this moment, you have figured out that choosing a winner for Etsy or Shopify is not the fixed goal by looking at how they function. Shopify is a dedicated eCommerce platform that provides you the ability to flourish business with your own brand. While Etsy allows you to keep it simple selling online, focusing on the product's distinctive.
If you're interested in multichannel selling, check out LitCommerce to prepare for your first step! The tool allows you to import products from your eCommerce website, then list and sell products on the world's largest online marketplaces such as Amazon, Etsy, and eBay,… and make the management work more efficient and simple than ever before.
In case you need more info, please leave us a message. You can also join our community for more and more helpful information.