With around 159 million active users in 2020, eBay has always been a potential marketplace for sellers to grow an online business. However, before you can sell your products on eBay, you should get your products to show up in front of your target audience. That explains why optimizing your product listing and seller presence is a must to reach more prospective buyers.
By adopting an appropriate eBay SEO strategy, you can increase the relevancy of your product listings on eBay's search engine – Cassini. This eventually helps improve your product positions. 
In this article, LitCommerce will show you exactly how to optimize eBay listing and boost your traffic with 10 essential eBay SEO tips.
Let's get into it!
---
How Does eBay SEO Work?
Before learning all the eBay SEO tips, let's start with some basic understandings of how eBay SEO works.
On eBay, the platform has its search engine called Cassini. Similar to Google, this search engine looks at several factors to decide which product listings should come up first on search result pages.
Although eBay never really discloses Cassini's ranking algorithms, there are 4 core values of Cassini for your eBay listing optimization: Relevance, Value, Trust, and Convenience. Todd Alexander – the director of the search for eBay Australia has made a statement about these 4 factors in a presentation on Cassini's search on how they affect Cassini algorithms.
In addition, eBay has made it clear that Cassini aims at ranking search results that are most likely to generate immediate sales. Therefore, eBay search engine optimization also means optimization for target buyers.
---
7+ eBay SEO Tips for Better Ranking
Without further ado, below we include 7 eBay SEO tips to help you optimize your eBay listing.
#1. Optimize keywords for eBay listing
Cassini places a significant priority on products that are more likely to make users purchase, indicating a higher conversion rate means better ranking. Therefore optimizing eBay listing effectively is an important factor in deciding your product rank on search result pages.
Whether listing one item or listing multiple items on eBay, you need to fill out every possible field in the product listing to provide users with the most descriptive listing possible.
Let's start with keywords for eBay listing optimization. To establish a certain level of relevancy to buyers' search intent, you should search for an appropriate term to include in your product titles. Failing to address searcher intents can cost you potential buyers coming to competitors or worse – to other platforms outside eBay.
A Multi-selling Solution
Fear no competitors by increasing your online presence via multiple-channel selling!
LitCommerce makes it simple and effortless for multiple-channel selling by providing you with all-in-one multi-store management.
Here are three common methods you can adopt when finding keywords for eBay listings.
Utilizing eBay's search bar: The easiest way to look for product terms is to see how users search for each product. You can do it by simply typing your product name in basic forms (i.e. women sweaters, phone cases, etc.) on the search bar. And then you refer to all of the popular eBay search terms that appear under the search bar.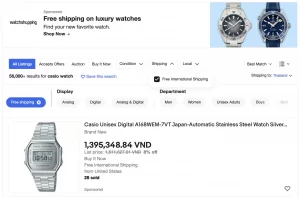 Using eBay SEO tools: This is the more accurate and advanced way to determine searching terms for product titles. Popular SEO tools like Ahrefs, Keyword Tool, Terapeak, etc. can provide you with a data-driven list of keywords that have search volume and other details like CPC (cost-per-click), and potential traffic of such keywords.
Referring to top search results: The last way to decide on a term for your eBay listings is to take a look at the top search results on other search engines like Bing or Google. Taking references from these results gives you an idea of the current product trends and product phrases that go together.
#2. Improve product titles and descriptions
Having keywords ready, you can continue optimizing the product titles. eBay has provided a guide on writing product titles, which writes "create a concise and informative title". You need to identify long-tail keywords that have search volume and optimize your title accordingly.  For example, a product titled "kelly green women sweater" is better than just "women sweater".
For the product description, you can also include LSI (Latent Semantic Indexing) keywords alongside the main keyword to provide a detailed explanation of your product. It's highly recommended to use proper headings (H1, H2, and H3) for the description formatting. This is not only for eBay SEO optimization but also for a great user experience.
#3. Choose an appropriate category
There are a significant number of different categories for product listings on eBay, and organizing your products under correct categories helps the search engine better navigate your products.
For example, if you sell men's clothes (i.e polo shirts), you can place them under the category navigation Clothing, Shoes & Accessories > Men's Clothing > Shirts > Polos.
You should bare in mind that when deciding what categories your products belong to, pick out the most relevant ones. Also, do not overextend the categories and put them under numerous subcategories if it doesn't help improve the user experience. It's a waste of time and confuses users when they search for items under too many subcategories.
#4. Add unique identifiers in your listing
Another eBay SEO tip for sellers is to add unique identifiers to product listings. It helps increase the product visibility on search result pages of eBay and also other search engines like Google or Bing.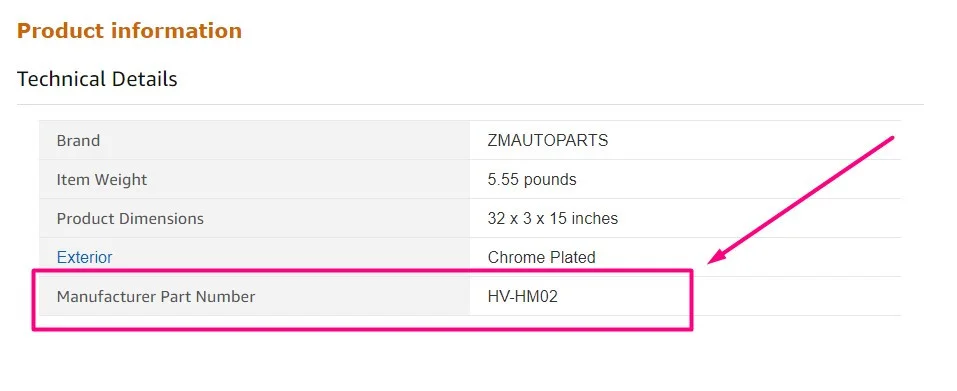 These unique identifiers include but are not limited to the following list:
items' brand names;
manufacturer part number (MPN);
global trade item numbers (GTINs) such as Universal Product Codes (UPCs) and International Standard Book Numbers (ISBNs).
This is how to get eBay listing on the first page when users conduct a search for any of those unique identifiers or use eBay advanced search features.
#5. Focus on eBay image search
Optimizing for keywords is not the only thing when it comes to doing eBay SEO. Image search optimization is also an important feature to focus on. Not only because qualified images deliver a better user shopping experience, but also because the platform enables a feature called eBay image search.
The first thing before optimizing image search is to make sure your image listing meets all of eBay's requirements on images. Your product images should only present what you are selling, without including watermarks, borders, nudity, text, logos, or any other information you can cover in the product description.
Below are the other key factors to improve your eBay image search:
Provide at least 6 high-quality photos of your product from different angles;
Insert alt text for your image listings (125 characters or less);
Don't use images smaller than 500 x 500px or larger than 12MB;
Take product photos with white backgrounds;
Use common formats like PNG, JPEG, or GIF.
Since online shopping is all about selling the experience, it's important to make buyers feel the products as much as possible by displaying high-quality product photos. This will ensure an outstanding zoom-in experience without pixelated areas and help buyers better visualize the products from different angles.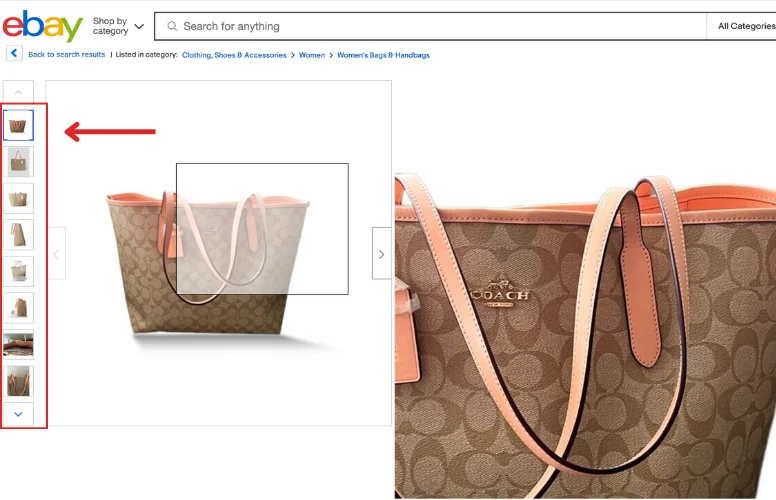 On a more technical note, adopting alt text for your images help the search engine better understand what your images are about as they can't read images. Alt text for the images should include eBay SEO keywords of the products. Such texts will also be displayed to shoppers when they can't load the images, which eventually benefits users' experience.
#6. Enhance your customer service
This is how to increase eBay traffic alongside the abovementioned factors. As eBay SEO all boils down to delivering the best buying experience, it's essential to ensure outstanding customer service. This is an important aspect for both personal accounts and business accounts.

When assessing seller performance, Cassini looks into a number of factors such as ratings, product reviews, customer disputes, and responsiveness. These factors can leave a severe impact on your eBay SERP ranking if not handled properly.
Therefore, here are several tips to improve your customer service and have a higher seller rating:
Be transparent about shipping and return policy, and product information;
Response in time to buyer questions;
Ensure handling time within a day maximum.
#7. Make use of eBay shipping program
For sellers that are on multiple online marketplaces like eBay and Amazon, fast and free shipping programs have been one of the deciding factors for both search engines and buyers. 
Buyers always have a significant preference for items that can be delivered fast (particularly in less than four days) and free. If you don't offer such a fast and free shipping program, you may lose potential customers to other sellers, or to other online marketplaces (i.e Amazon).
On eBay, there is always a filter for shipping programs that buyers can use to search for sellers having a free shipping policy. For sellers to appear on such search results, they need to be qualified for Free Shipping Message programs.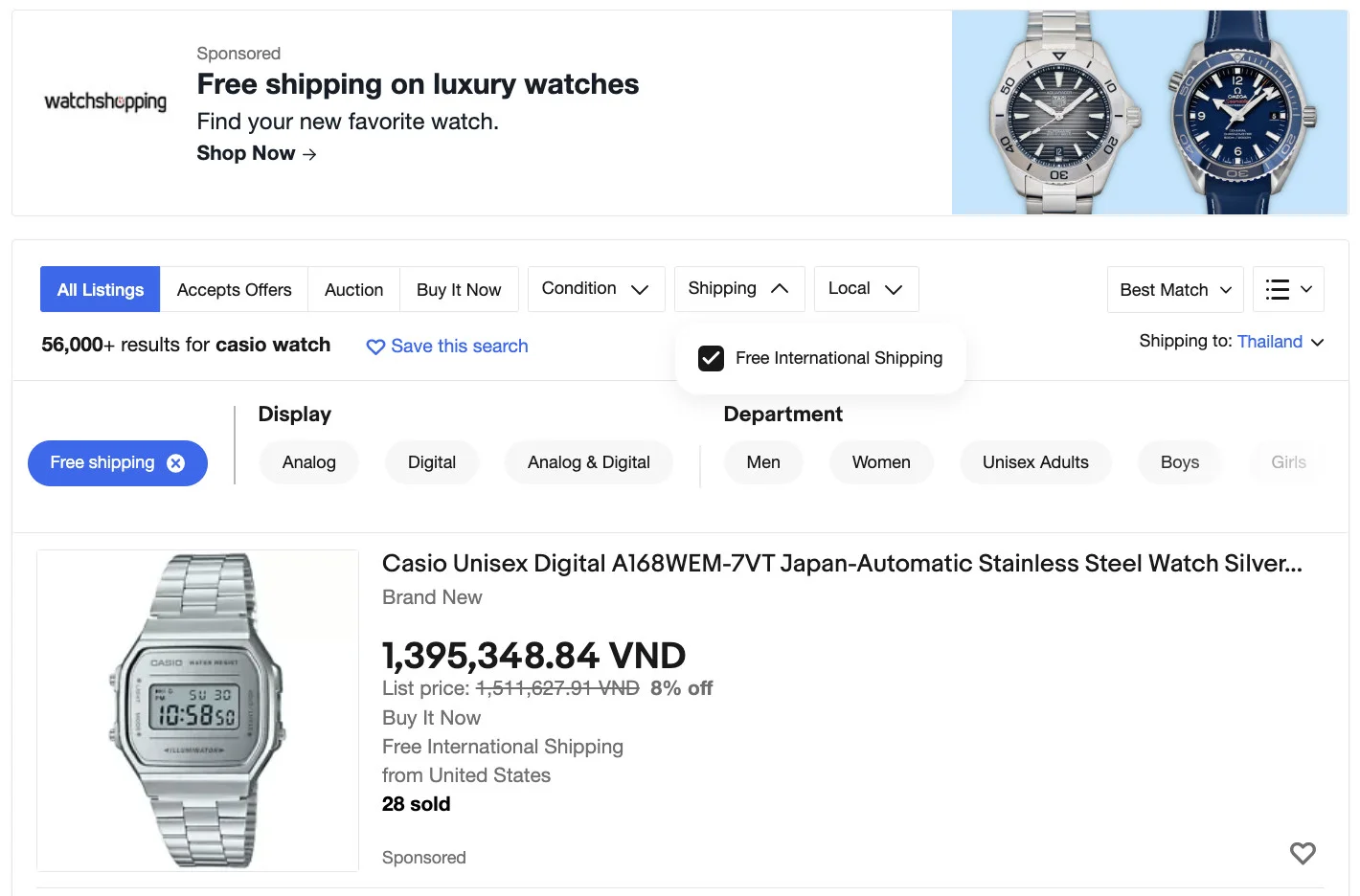 Below are a few requirements to qualify for a free shipping message, according to eBay policies:
Offer free delivery that will arrive within 4 days;
Offer same-day or 1-day handling;
Upload tracking details of your products when using tracked shipping.
Even if shoppers don't filter you out entirely, eBay Best Match will still push you down the rankings for not offering free shipping.
---
eBay SEO Tips: What to Avoid?
There are a number of things you should avoid when doing eBay SEO for your products.
#1. Overstuff with keywords in your titles and descriptions
It's important to avoid stuffing eBay keywords in descriptions, especially when the keywords are out of context. Keyword stuffing is considered a manipulating method for all search engines, and if detected, it can have a severe impact on your product listing.
Keep in mind to follow eBay's suggestion to include a keyword density of 5–7% and that your product content should be written for humans first, not search engines.
#2. Clickbait in your eBay titles
Clickbait words like a must-see, wow, or similar are also a no when doing eBay SEO. These words don't have any value to both users and search engines while taking valuable space off your titles. In fact, users never search for such words in any product search queries.
The best product title should only include relevant and descriptive terms, instead of adopting useless words that don't provide any value to either buyers or search engines.
#3. Use hidden text
Using hidden text by making the colors of the text invisible to users is also a terrible tactic. Such a dishonest act is considered a violation of eBay SEO guidelines and can result in poor rankings of product listings, or worse – a banned account.  
---
eBay SEO – FAQs
How do I SEO my eBay listing?
When it comes to doing SEO for your eBay listing, filling in all the necessary information on eBay product listing and following eBay guidelines are the most important things. Make sure that you have done the following:
Adopt appropriate and relevant keywords where possible.

Use high-quality images for product listings.

Ensure your listings are accessible.

Organize items into correct categories.

Include eBay's unique identifiers.

Pay attention to your Seller Performance.
How do you beat eBay algorithm?
To compete and earn a better ranking in the eBay algorithm, you need to increase your click-through rate and conversion rate. In other words, you have to make sure your product title, description, images, and other information address well the buyer's search intent when it comes to that certain product. The better it is for the user search, the less likely they will exit your product page for other product pages of your competitors.
How do I increase organic traffic on eBay?
You can increase organic traffic on eBay by doing the following:
Doing eBay SEO

Writing review articles about your products

Commenting on forums or blogs

Optimizing product landing page

Doing partnerships
---
Conclusion
With over 185 million active buyers and 19 million sellers, eBay is a highly competitive platform for any seller. However, you can always reach more prospective buyers if you invest enough time in doing eBay SEO.
Despite the fact that eBay SEO is not something that you can see immediate results in a few days, implementing an appropriate eBay SEO strategy today can help improve your product ranking and your eBay revenue in the long run.
For a more prosperous business, you can also try selling on multiple platforms with LitCommerce – a free multichannel selling solution that helps you scale and manage your business within a single management hub.
If you need further information, you can always leave us a message or join our community for immediate support!
You might also want to read: