Introduction
WooCommerce is well-known for its user-friendliness and adaptability. The framework allows sellers to go beyond the restrictions of traditional eCommerce solutions. Also, it offers a number of unrivaled shows to benefit small-to-large web enterprises. You can turn your WordPress site into a professional and cost-effective online store with just a few clicks.
First and foremost, the integration's primary goal is to make the selling process more manageable. Therefore, the best way to get quality attributes is using WooCommerce Etsy Integration. Uploading and maintaining track of a hundred thousand products as a seller can leave you overwhelmed. As a result, the integration makes it simple to upload, update, and synchronize your products in the most efficient way possible. Features like centralized inventory management relieve you of all manual labor allowing for seamless management.
Everything becomes as easy as pie from retrieving your order to handling it on your Etsy shop. The integration ensures that Etsy and WooCommerce stores are both transparent.
What is WooCommerce?
Firstly, WooCommerce is an open-source plugin for WordPress that was created by WooThemes developers in 2011. It can assist you in swiftly converting a WordPress website into a fully functional online store. The platform is thought to be an ideal solution for organizations of all sizes, from small to large corporations.
As of January 2021, there are 4,414,537 live websites using WooCommerce. It also takes the lead as the most popular platform, powering 26% of all eCommerce sites. On Capterra, the platform also garnered a slew of positive WooCommerce reviews from all across the world.
What is Etsy?
Founded in 2005, Etsy is an online marketplace connecting merchants and shoppers who are passionate about creating or purchasing custom-made items, vintage or unique treasures. Currently, there are 4.3 million Etsy sellers across the globe – each of whom is the driver of both economic impact and personal empowerment.
In this article, we'll break down the reasons why Etsy is the wisest choice to expand your business, and why you should use LitCommerce – the most easy-to-use and affordable multi-channel and selling solution.
Reason why we need to integrate WooCommerce with Etsy
Etsy is a global marketplace dedicated to selling one-of-a-kind and creative items. This sales channel is a prominent place that sells art, jewelry, health and beauty goods, apparel, photography, and a variety of other items. As a result, it's simple to build a store and begin selling to a huge audience. Furthermore, Etsy's readership is more specialized than Amazon or eBay.
Unfortunately, the biggest disadvantage of selling on Etsy is that it can be hard to differentiate yourself as a business. For example, instead of saying "from NovelTea Tins," many prefer to say "from Etsy." Also, it put more pressure on sellers to provide free shipping in order to rank higher on Etsy's search page. The marketplace also demands sellers to promote offsite, prompting many Etsy businesses to reconsider the channel's cost-effectiveness.
Looking at the bright side, Etsy's goal is to assist individual craftsmen to become professional sellers in their field for a small cost of $0.20 each listing in their store. It provides a platform for anyone to start their own business and grow their existing one. In fact, here are a few benefits of selling in the Etsy marketplace.
Every product is one-of-a-kind. Etsy is known for its one-of-a-kind, handcrafted, and vintage items. Plus, it allows you to sell vintage items that are 20 years old.
Selling on Etsy has a low overhead cost because opening an Etsy shop is free, but you just have to pay $0.20 to list your products for four months or until they sell.
Merchants have more flexibility with Etsy because they can customize their layout, theme, CSS, and even add custom scripts.
Is this a route that might be beneficial to your company? It's not too late to start an Etsy shop selling your handcrafted products. In fact, Etsy is the most suitable solution as a secondary channel for people who already have a strong following and brand outside of Etsy. At these very least, the channel's visibility and ease of use make it worthwhile to investigate further. To ensure that your fees are affordable, keep a close eye on your margins.
LitCommerce Main Features
LitCommerce can meet your expectations with WooCommerce Etsy integration. This advanced system allows you to easily import Etsy to WooCommerce with all of your products (and other data) with many other marketplaces.
By automating work with all of the flexible offers available, you can save a lot of time and focus on more important tasks. It also keeps you up-to-date on all of the activity on the Etsy marketplace by sending you email notifications through your WooCommerce store.
With Etsy integration for WooCommerce, you can sell on Etsy with ease and take advantage of its additional features.
Product Listing in Bulk: Start selling on Etsy is quick and effortless with LitCommerce WooCommerce bulk listing software. You can easily select products from your central catalog to create listings and publish on Etsy in just one click.
Real-time synchronization: Every time you make changes to your product attributes such as name, price, inventory, images, etc., LitCommerce will automatically update between your sales channels to save you time and minimize repetitive tasks.
Advanced Order Management: Managing and fulfilling orders with WooCommerce multichannel selling are no longer a hassle. The system will automatically sync your orders from every sales channel to one central store. It helps you deliver products in time and keep track of statistics.
Step-by-step guide for WooCommerce Etsy Integration with LitCommerce
Registering a LitCommerce account is just a breeze and you will have a huge opportunity to connect your store to a large community. If you're interested in selling on the further most popular marketplaces worldwide, you can choose WooCommerce eBay integration or WooCommerce Amazon integration as well to help you boost sales and connect to millions of buyers out there.
Within only 4 simples steps, you can easily connect WooCommerce to Etsy and leverage your sales by the following:
Step 1: Connect WooCommerce to Etsy
The first step after creating an account is to connect with your WooCommerce store. The store will act as a source of data when importing products. Simply choose WooCommerce and hit the "Connect" button.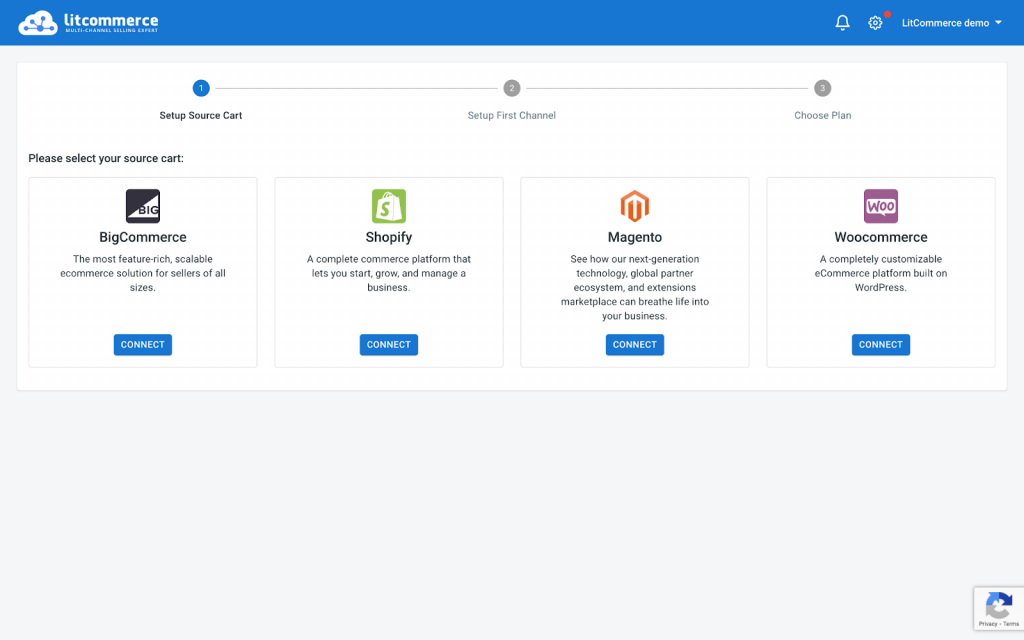 When accessing your WooCommerce store, you need to provide your Store URL, API Consumer Key and API Consumer Secret. Make sure the permission is set to "Read and Write" access. Our LitCommerce app will provide you with a video tutorial or document to help you fill out the API data.
Step 2: List products to Etsy
To create a new draft listing, firstly, go to All products from the left sidebar menu. From here, choose the items you want to list on your channels. After that, click List products on channel, then choose Etsy.
The system will then create draft listings on your channel page and redirect you to it. Along with that, you will see a notification Draft listings successfully created. Now you can freely customize your listings before going live.
Step 3: Sync WooCommerce and Etsy inventory
To enable inventory sync, from the main dashboard, choose the sales channel you want, and then click Channel settings. From there, you can see the Inventory section as a picture below.
Click on the switch next to Inventory Sync to turn on this feature.
After that, click on Save Settings from the bottom of the page to save any changes you've just made. And you're ready to go!
Step 4: Manage Etsy orders
While the WooCommerce store will be the place where you fulfill your orders, you can also manage them in the LitCommerce system. To manage orders, go to Orders from the left sidebar menu.
You'll find the buyer's name, order status, channel order number, and other important components. This will help you monitor and manage orders from all sales channels in one place.
That's how easy it is to utilize WooCommerce Etsy integration using LitCommerce app.
Frequently Asked Questions (FAQs)
Question: Can I integrate my WooCommerce store with other sales channels?
Answer: Yes, you definitely can. Currently, LitCommerce allows you to connect to 6 marketplaces including Amazon, eBay, Etsy, Wish, Google Shopping, Walmart and Facebook Shops. However, you can only connect to only one marketplace in the initial setup page. After that, you are able to add as many channels as you wish from the LitCommerce dashboard.
Question: Can I see all of my Etsy sales revenues on LitCommerce dashboard?
Answer: Of course, you can see and manage all of your Etsy's transactions history. To do that, on the LitCommerce dashboard, from the left sidebar menu, go to My Wallets as a picture below.
Question: How much does it cost for using LitCommerce?
Answer: Luckily, LitCommerce provides a 12-month FREE Access that unlocks full features available for all plans. Plus, there's no need for a credit card or other setup costs before selecting one of our pricing options. For more information, please refer to our Pricing Plan and Comparison.
Apart from the Free Access, we ensure that our customers get the best experience possible by offering a dozen packages that range from free to $59 per month.
We recommend starting with monthly billing if you're new to LitCommerce. You can always change to annual billing later to take advantage of the discount.
Let's hit the jackpot with LitCommerce!
In conclusion, we have noted all the key reasons why you should expand your WooCommerce store with Etsy integration. There's no right or wrong decision, it's all depending on your wise business strategies. Try to incorporate your brand identity and consider what you want to tell your customers.
Despite the fact that Etsy is a terrific site to sell, it's not the only option. With LitCommere, the WooCommerce multichannel selling process becomes easier, you can also expand your online store to wider audiences on Amazon, eBay or Facebook shop, for example.
Even though you are not an expert in technical skills, you can use LitCommerce's integration technology. This helps to simply build listings, post them on numerous marketplaces and shopping carts, allow inventory synchronization, and manage orders—all from a single central system.
Please contact us if you require additional information.
Join our Facebook group for more eCommerce news and tips, good luck!