Introduction
The integration's primary goal is to make the selling process more manageable. Manually uploading and maintaining track of a hundred thousand products, might leave you overwhelmed. Therefore, the best way to get quality attributes is using WooCommerce Etsy Integration.
Everything becomes as easy as pie from retrieving your order to handling it on your Etsy shop. The integration ensures that Etsy and WooCommerce stores are both transparent.
In this article, you will learn:
---
Etsy WooCommerce Overview
What is WooCommerce?

Firstly, WooCommerce is an open-source plugin for WordPress that was created by WooThemes developers in 2011. It can assist you in swiftly converting a WordPress website into a fully functional online store. The platform is thought to be an ideal solution for organizations of all sizes, from small to large corporations.
What is Etsy?
Founded in 2005, Etsy is an online marketplace connecting merchants and shoppers who are passionate about creating or purchasing custom-made items, vintage or unique treasures. Currently, there are almost over 39.4 million active Etsy buyers worldwide – each of whom is the driver of both economic impact and personal empowerment.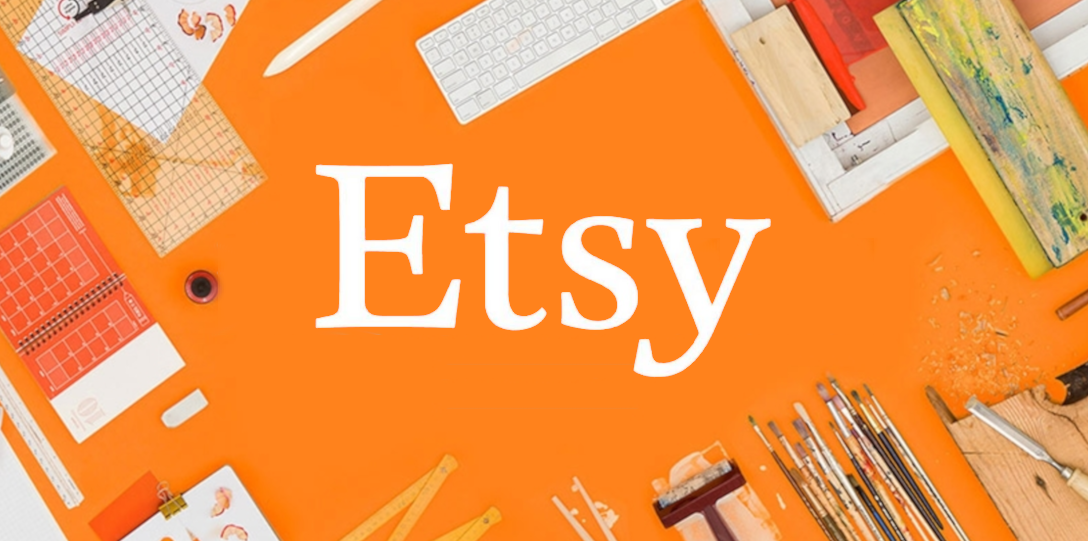 Furthermore, this marketplace has 3 core segments: handmade, vintage, supplies and almost 90% of sellers are selling handmade products.
In this article, we'll break down the reasons why Etsy is the wisest choice to expand your business, and why you should use LitCommerce – the most easy-to-use and affordable multichannel selling solution.
---
Benefits of Auto-Connect WooCommerce Etsy

Etsy is a global marketplace dedicated to selling one-of-a-kind and creative items. This sales channel is a prominent place that sells art, jewelry, health and beauty goods, apparel, photography, and a variety of other stuff.
Accordingly, it's simple to build a store and begin selling to a huge audience. Notably, Etsy's buyers are more specialized than Amazon or eBay.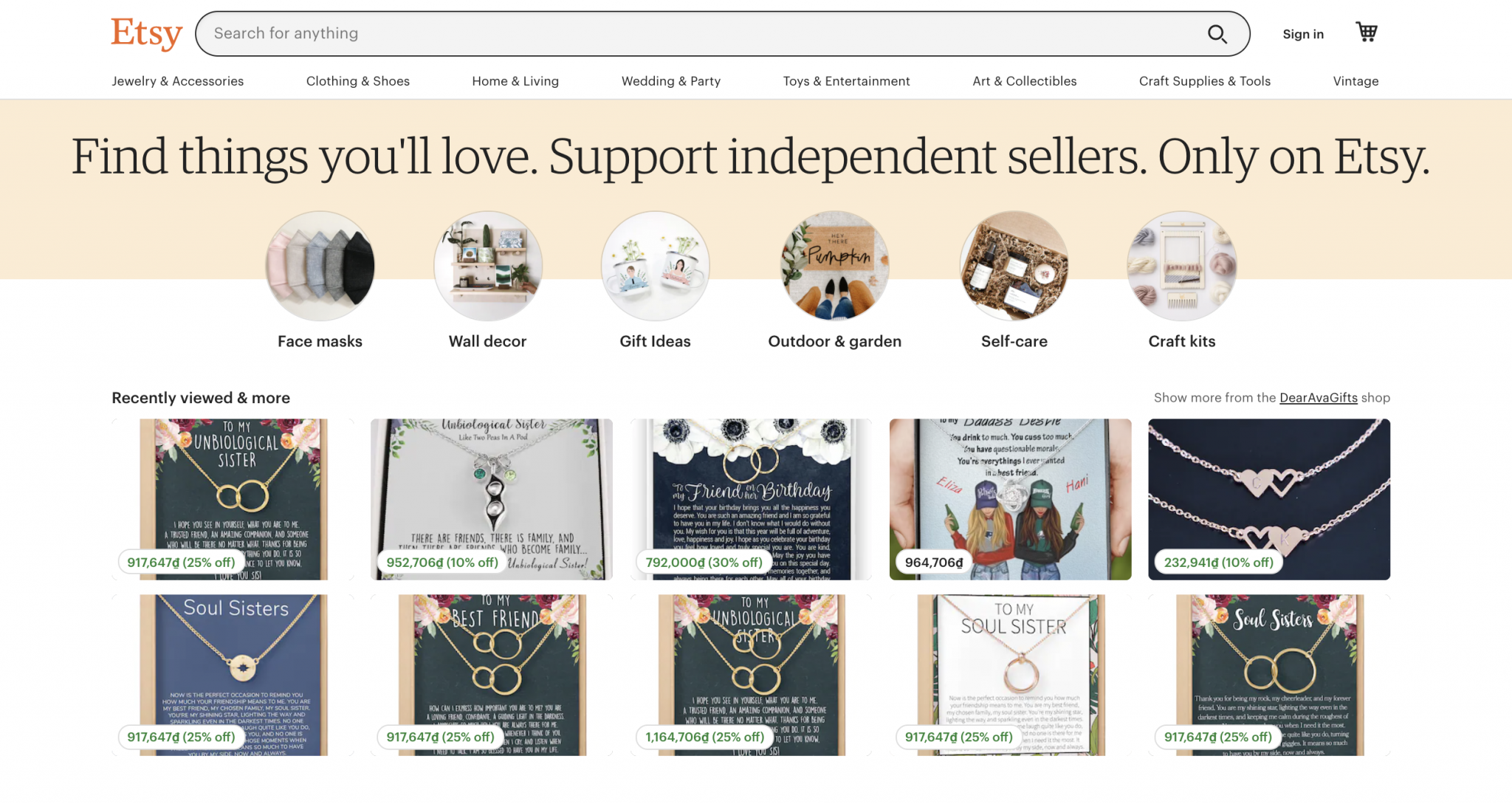 Unfortunately, the biggest drawback of selling on Etsy is that it can be struggling to differentiate yourself as a business.
For example, instead of saying "from NovelTea Tins," many prefer to say "from Etsy." Also, it put more pressure on sellers in terms of product development, client retention, and promotions in order to rank higher on Etsy's search page. The marketplace also demands sellers to promote offsite, prompting many Etsy businesses to reconsider the channel's cost-effectiveness.
Looking at the bright side, Etsy's goal is to assist individual craftsmen to become professional sellers in their field for a small selling fee in their store.
It provides a platform for anyone to start their own business and grow their existing one. In fact, a WooCommerce website that integrates with Etsy can take a lot of benefits as follows:
Every product is one-of-a-kind. Plus, it allows you to sell vintage items that are 20 years old.
Selling on Etsy has a low overhead cost because opening an Etsy shop is free, but you just have to pay $0.20 to list your products for four months or until they sell.
Merchants have more flexibility with Etsy because they can customize their layout, theme, CSS, and even add custom scripts.
Is this a route that might be beneficial to your company? It's not too late to start an Etsy shop selling your handcrafted products. In fact, Etsy is the most suitable solution as an Etsy plugin for WooCommerce which already has a strong following and brand.
At the very least, the channel's visibility and ease of use make it worthwhile to investigate further. To ensure that your fees are affordable, keep a close eye on your margins.
---
Registering a LitCommerce account is just a breeze and you will have a huge opportunity to connect your store to a large community.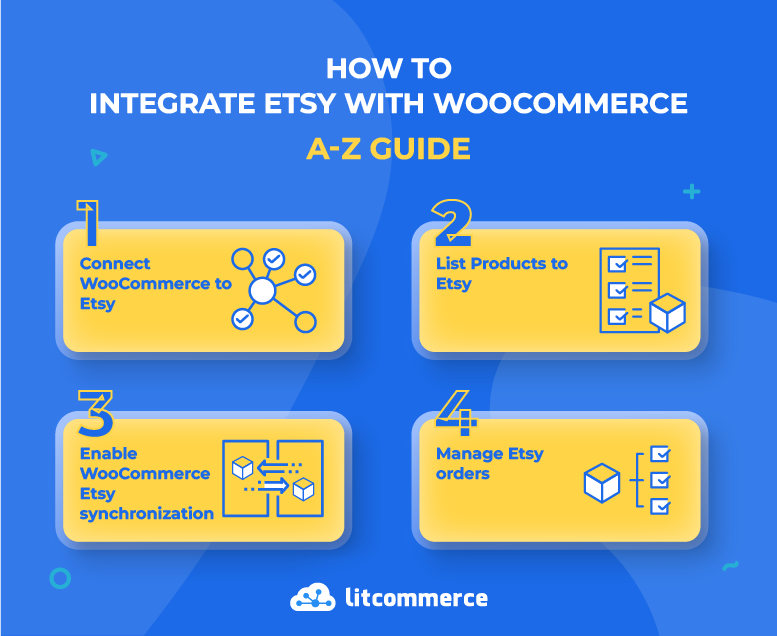 If you're interested in selling on the further most popular marketplaces worldwide, you can choose WooCommerce eBay integration or WooCommerce Amazon integration as well to help you boost your sales and connect to millions of buyers out there.
Within only 4 simples steps, you can easily integrate Etsy into WooCommerce website and leverage your sales by the following:
# Step 1: Connect WooCommerce to Etsy
The first step after creating an account is to connect with your WooCommerce store. The store will act as a source of data when importing products. First, you need to log in to your WooCommerce admin panel.
On the left-side menu bar, navigate to Plugin and click Add new.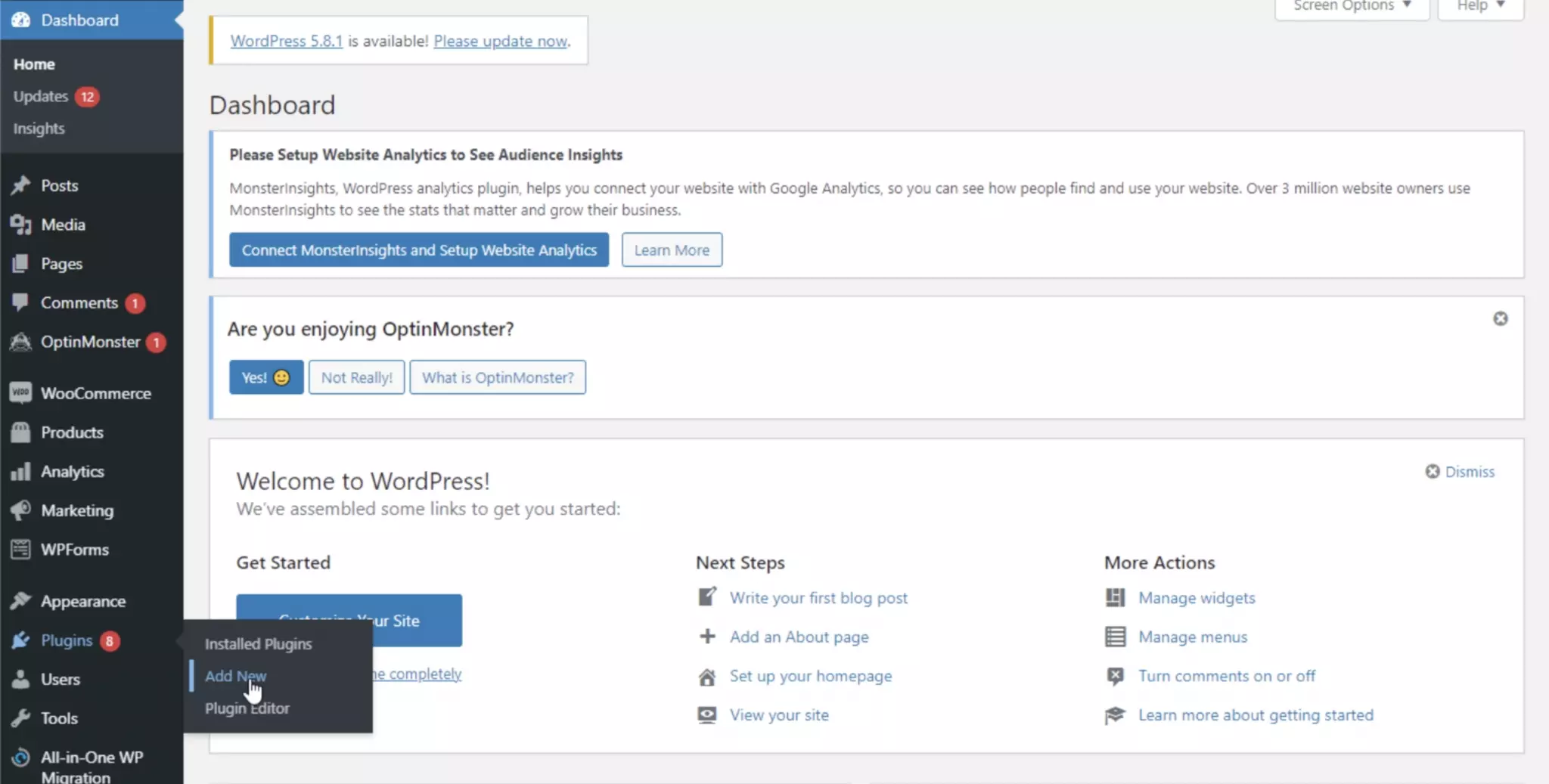 After that, look for the LitCommerce plugin by typing in the search bar. Click on Install Now and then Activate.

Then, you will see the LitCommerce section on the left-side navigation. Go to the section and click on the Re-connect to LitCommerce button. After that, the plugin will automatically perform the necessary steps to integrate with LitCommerce.

Once it's done, you'll be redirected to the LitCommerce app to integrate with your Etsy store.
Here is our guide to visualize the whole process of integrating Etsy with WooCommerce:
# Step 2: List products to Etsy
To create a new draft listing, firstly, go to All products from the left sidebar menu. From here, choose the items you want to list on your channels. After that, click List products on channel, then choose Etsy.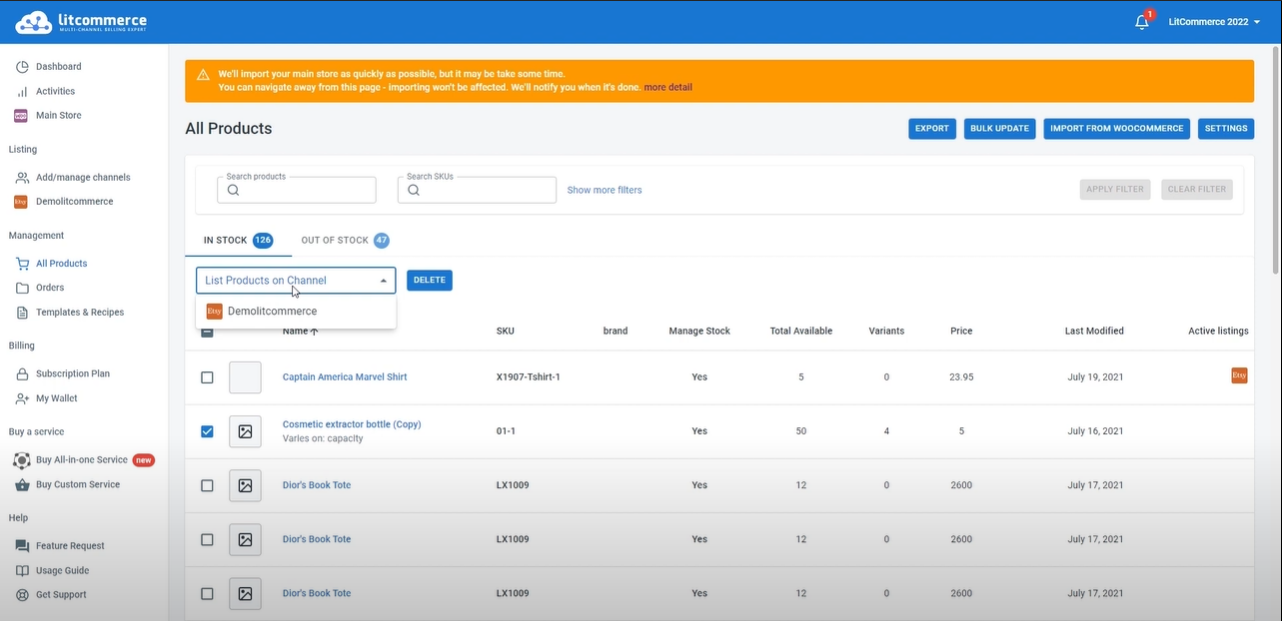 The system will then create draft listings on your channel page and redirect you to it. Along with that, you will see a notification Draft listings successfully created. Now you can freely customize your listings before going live.
# Step 3: Enable WooCommerce Etsy Sync
With LitCommerce app, you can synchronize among your Etsy and WooCommerce with just a click. To enable inventory sync, from the main dashboard, choose the sales channel you want, and then click Channel settings. From there, you can see the Inventory section in the picture below.

Click on the switch next to Inventory Sync to turn on this feature.
After that, click on Save Settings from the bottom of the page to save any changes you've just made. And you're ready to go!
# Step 4: Manage Etsy orders
While the WooCommerce store will be the place where you fulfill your orders, you can also manage them in the LitCommerce system. To manage orders, go to Orders from the left sidebar menu.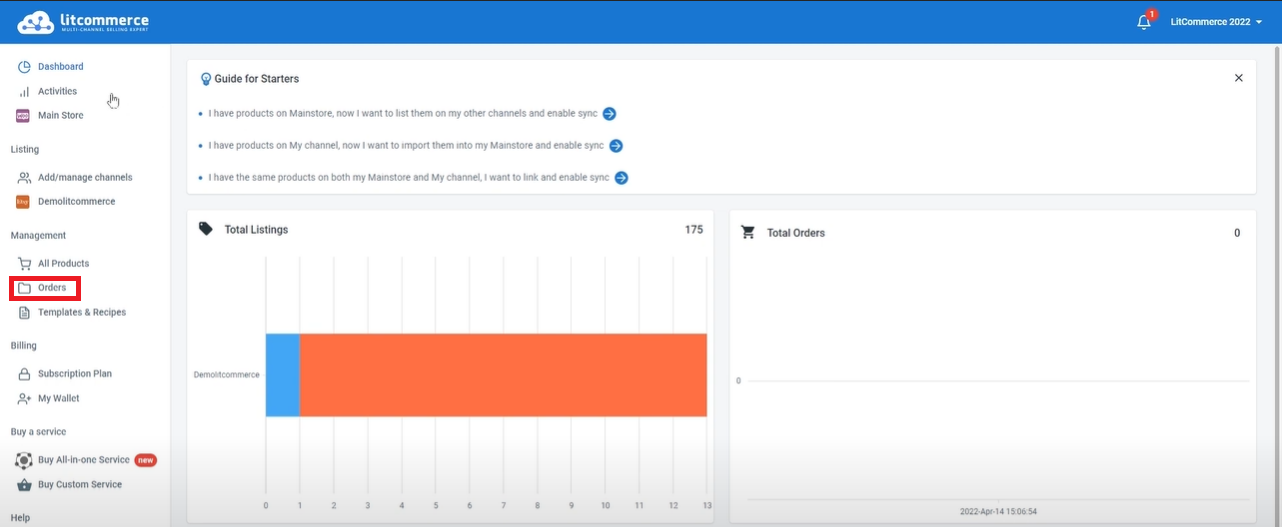 You'll find the buyer's name, order status, channel order number, and other important components. This will help you monitor and manage orders from all sales channels in one place.
That's how easy it is to utilize WooCommerce Etsy Sync using LitCommerce app.
---
Why choose LitCommerce for WooCommerce Etsy Importer?

LitCommerce Main Features
LitCommerce can meet your expectations with WooCommerce Etsy integration. This advanced system allows you to easily integrate Etsy into website by importing all of your products (and other data) into many other marketplaces.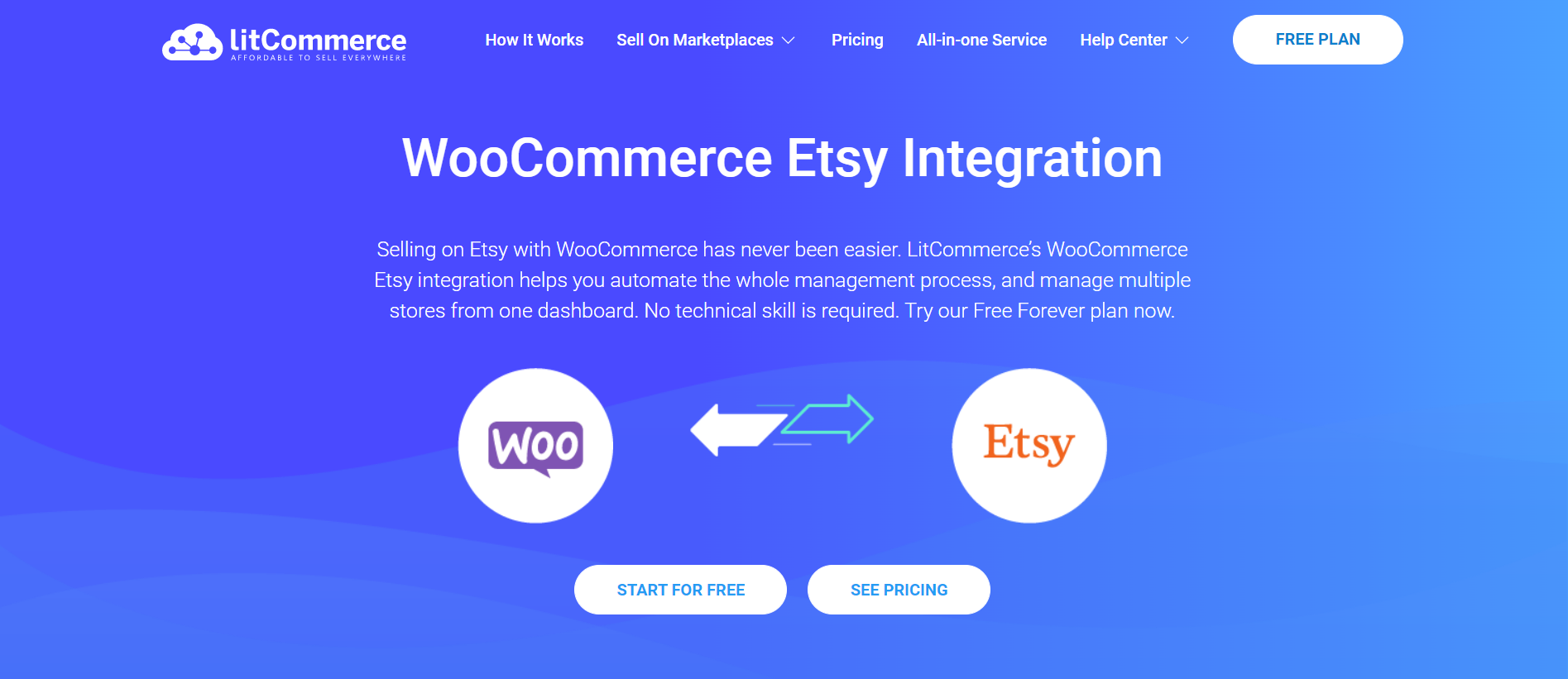 By automating work with all of the flexible offers available, you can save a lot of time and focus on more important tasks. This app also keeps you up-to-date on all of the activity on the Etsy marketplace by sending you email notifications through your WooCommerce store.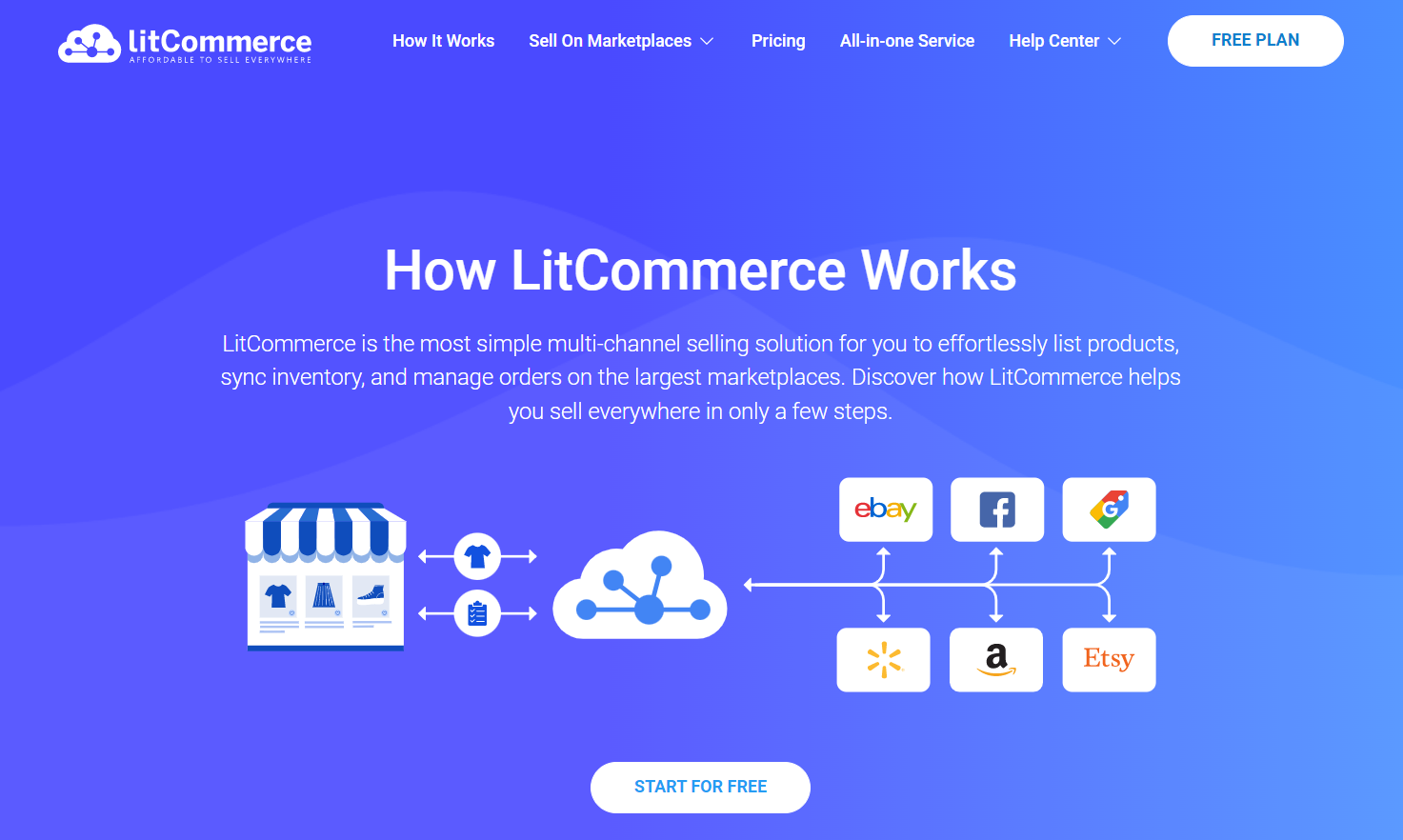 With Etsy integration for WooCommerce, you can sell on Etsy with ease and take advantage of its additional features.
Multichannel Connect: Effortlessly connect with multiple sales channels and manage inventory, prices and orders within a single dashboard. No technical skill is required.
LitCommerce QuickGrid: a spreadsheet-style interface that lets you view, edit and manage all listings on a single screen. You can edit products individually or in filtered groups and create rules to bulk update products with Templates and Recipes.
LitCommerce LiveSync: establishes a near-instant sync of product listing, orders, pricing and inventory between your store and your sale channels.
Integrated Order Flow: Import your sales channel orders directly into your eCommerce platform's orders page. You can manage and process orders effectively in one place.
Affordable WooCommerce Etsy Integration Pricing
LitCommerce Pricing Plans

- 20 listings

- No Price/ Inventory/Oder Sync

- 500 Listings
- Price/ Inventory Sync
- Unlimited Orders Sync

- 2,000 Listings
- Price/ Inventory Sync
- Unlimited Orders Sync


- 10,000 Listings
- Price/ Inventory Sync
- Unlimited Orders Sync
When it comes to WooCommerce Etsy Integration fees, LitCommerce offers 5 major pricing plans that fit all business sizes:
Anyone who wishes to try LitCommerce can start with 20 listings for free.
Basic Plan: $29 per month for 500 listings, ideal for new businesses.
Standard Plan: $49/month for 2000 listings, which is excellent for medium-sized online merchants.
Advance Plan: $69/month, includes 10.000 listings, as well as the ability to list and sell on a variety of selling channels, making it ideal for larger businesses.
Enterprise Plan: If you run an enterprise-level store and have unique requirements for LitCommerce, please contact us and our team will develop a plan that is tailored to your needs.
Customer Reviews about LitCommerce
Our main duty is to help customers the best possible experience with LitCommerce. We always try to understand the customers' needs as well as improve our app to fit their requirements:
Great experience.
All of my issues solved in no time.
Migration process from Etsy to WooCommerce was super easy.
The support team was always there for me.
Thank you!

– Mike Donenfeld, Isarel –
Before making your final selection on WooCommerce Etsy Integration, take a look at Trustpilot to learn more about LitCommerce's services.
---
Etsy Integration for WooCommerce – FAQs
Can I integrate my WooCommerce store with other sales channels?
Yes, you definitely can. Currently, LitCommerce allows you to connect to 6 marketplaces including Amazon, eBay USA, Etsy's official website, Google Shopping, and Facebook Shops. However, you can only connect to only one marketplace on the initial setup page. After that, you are able to add as many channels as you wish from the LitCommerce dashboard.
Can I see all of my Etsy sales revenues on the LitCommerce dashboard?
Of course, you can see and manage all of Etsy's transaction history. To do that, on the LitCommerce dashboard, from the left sidebar menu, go to My Wallets as a picture below.
How much does it cost for using LitCommerce?
Luckily, LitCommerce provides a Free Forever plan for businesses with less than 20 listings in total. Plus, there's no need for a credit card or other setup costs before selecting one of our pricing options. For more information, please see our Pricing Plans.
Apart from the Free Access, we ensure that our customers get the best experience possible by offering a dozen packages that range from $29 to $69 per month.
We recommend starting with monthly billing if you're new to LitCommerce. You can always change to annual billing later to take advantage of the discount.
---
Let's hit the jackpot with LitCommerce!
In conclusion, we have noted all the key reasons why you should use Etsy integration for WooCommerce to make your business thrive. There's no right or wrong decision, it's all depending on your wise business strategies. Try to incorporate your brand identity and consider what you want to tell your customers.
Despite the fact that Etsy is a terrific site to sell, it's not the only option. With LitCommere, the WooCommerce multichannel selling process becomes easier, you can also expand your online store to wider audiences on Amazon, eBay, or Facebook shop, for example.
Even though you are not an expert in technical skills, you can use LitCommerce's integration technology. This helps to simply build listings, post them on numerous marketplaces and shopping carts, allow Etsy WooCommerce inventory sync, and manage orders—all from a single central system.
Please contact us if you require additional information.
Join our Facebook group for more eCommerce news and tips, good luck!
You might also want to read: