Shopify Amazon Integration Guideline
In case you're an eCommerce seller seeking to expand your reach and simplify your operations, utilizing our LitCommerce Shopify Amazon integration is a smart and effective solution.
By using our tool, you can easily sell on Amazon with Shopify store as well as sync Shopify and Amazon within a single click. Let's take a look at how to integrate Shopify with Amazon in 4 primary steps:
Connect Shopify and Amazon
List products on Amazon
Sync Shopify and Amazon
Manage Amazon orders on Shopify
To learn more about how you can integrate Shopify with Amazon and simplify your selling activities, check out our comprehensive guide on Shopify Amazon integration with LitCommerce.
#Step 1: Connect Amazon to Shopify
Firstly, go to litcommerce.com/login to create a new account, you can also log in with Facebook or Google as well.
Next, connect your Shopify store which will act as a source of data to import products. Simply choose Shopify and hit the Connect button.


Choose Shopify as your Main Store then fills in the URL and API. Check out this video for a detailed guide on how to get Shopify API.
After choosing Shopify as your main store, it's time to integrate it with Amazon.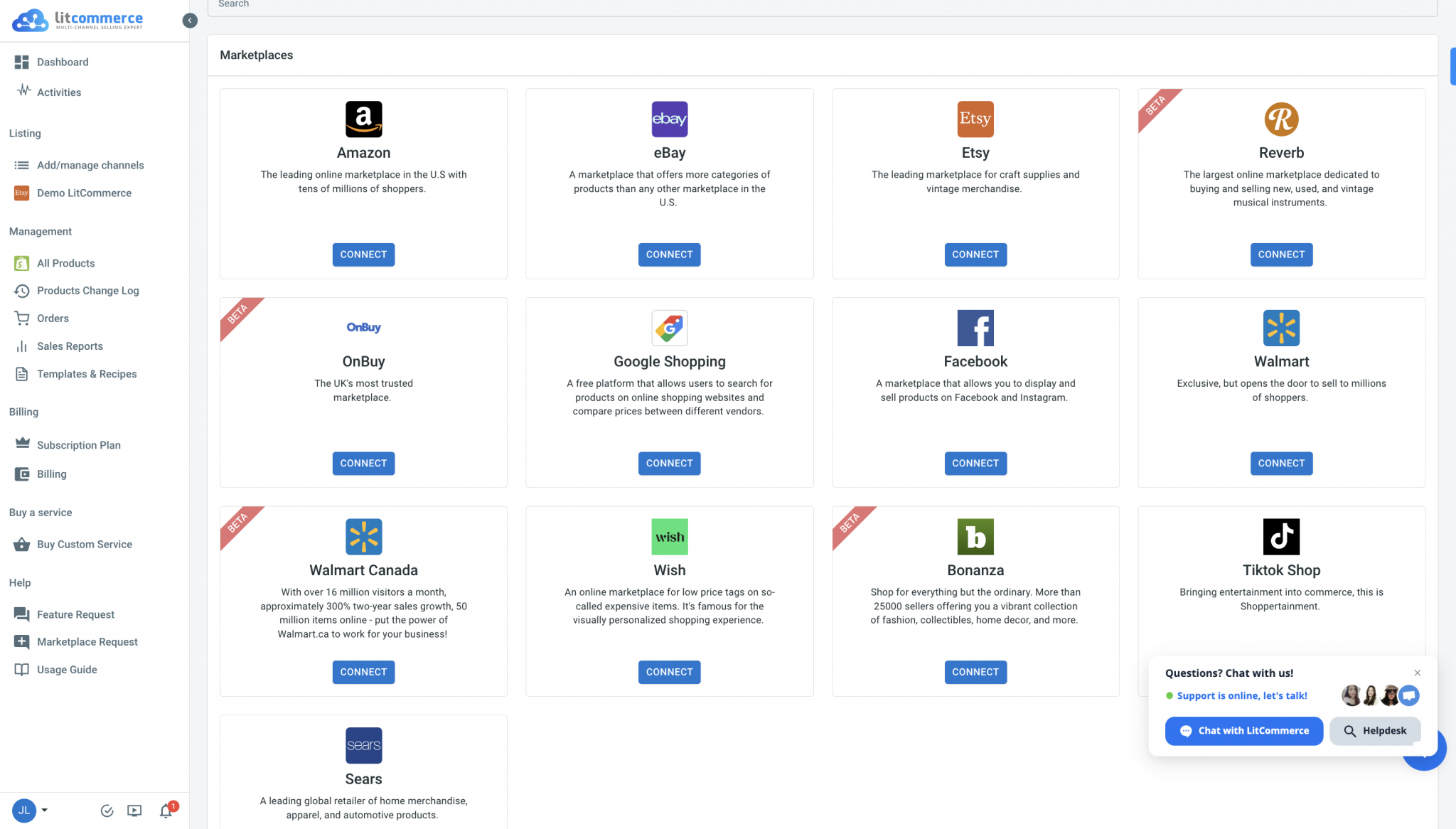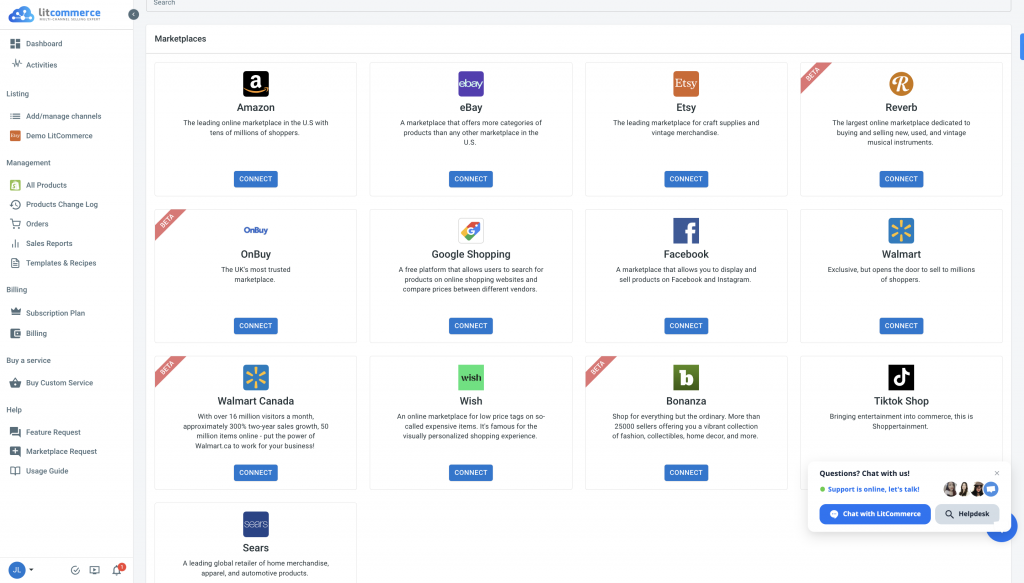 Simply choose Amazon and hit the Connect button. After that, you must connect to your Amazon account and give permission for the LitCommerce system to link with your Amazon store.
#Step 2: List Shopify products on Amazon
With LitCommerce, you can choose the products you wish to list on your channels, and select Amazon from the List products on the channel dropdown menu.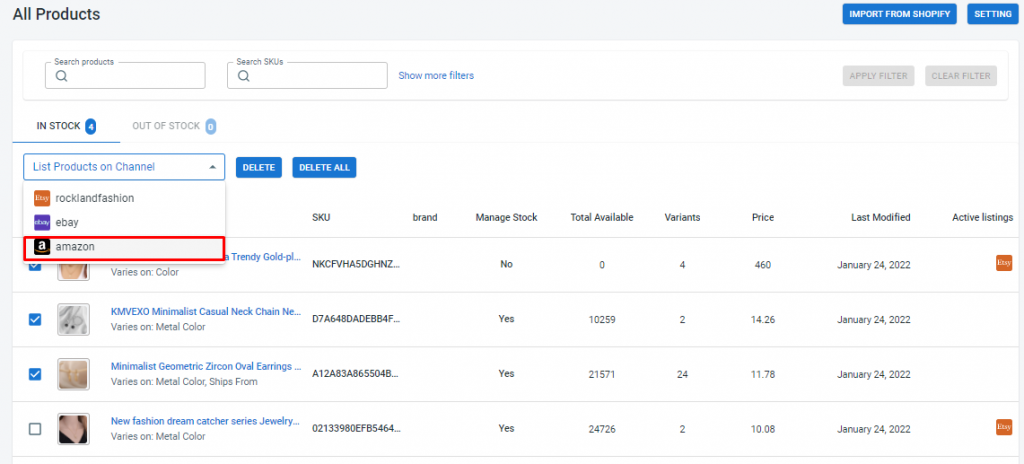 The system will then build and redirect you to draft listings on your channel page. You'll also receive a notification stating Draft listings were successfully created. And you can now make any changes you want to your listings before they go live.
#Step 3: Turn on Shopify Amazon synchronization
1. Inventory sync

From the main dashboard, navigate to channels then choose Amazon. From here, go to the Channel setting. Enable the Inventory Sync for your store by clicking the switch button. After it's all done, simply click Save. Now you're ready to list products to sell on both Shopify and Amazon.
2. Pricing sync
You can customize how your prices are displayed on your Amazon store by creating price rules. From this, you can change the price of all Amazon listings by a specific amount or percentage. The rule will be applied to all Amazon listings once you've set it up.

Note: You can use the Price Rules feature for currency conversion if you're selling overseas. To convert the currency, go to Google.com and search for the current exchange rate from your Main store currency to the currency of your sales channel.
+ If the rate is greater than 1, then subtract 1 from the rate and multiply the result by 100. Choose Increase in the first box.
+ If the rate is smaller than 1, then subtract the rate from 1 and multiply the result by 100. Choose Decrease in the first box.
Enter the result in the Price Adjustment section and set the unit to Percent (%).
#Step 4: Manage Amazon orders
When integrating your Shopify store with Amazon, you still need to use Shopify to fulfill orders. However, all the details of your order will be automatically updated to LitCommerce so you can monitor it easily.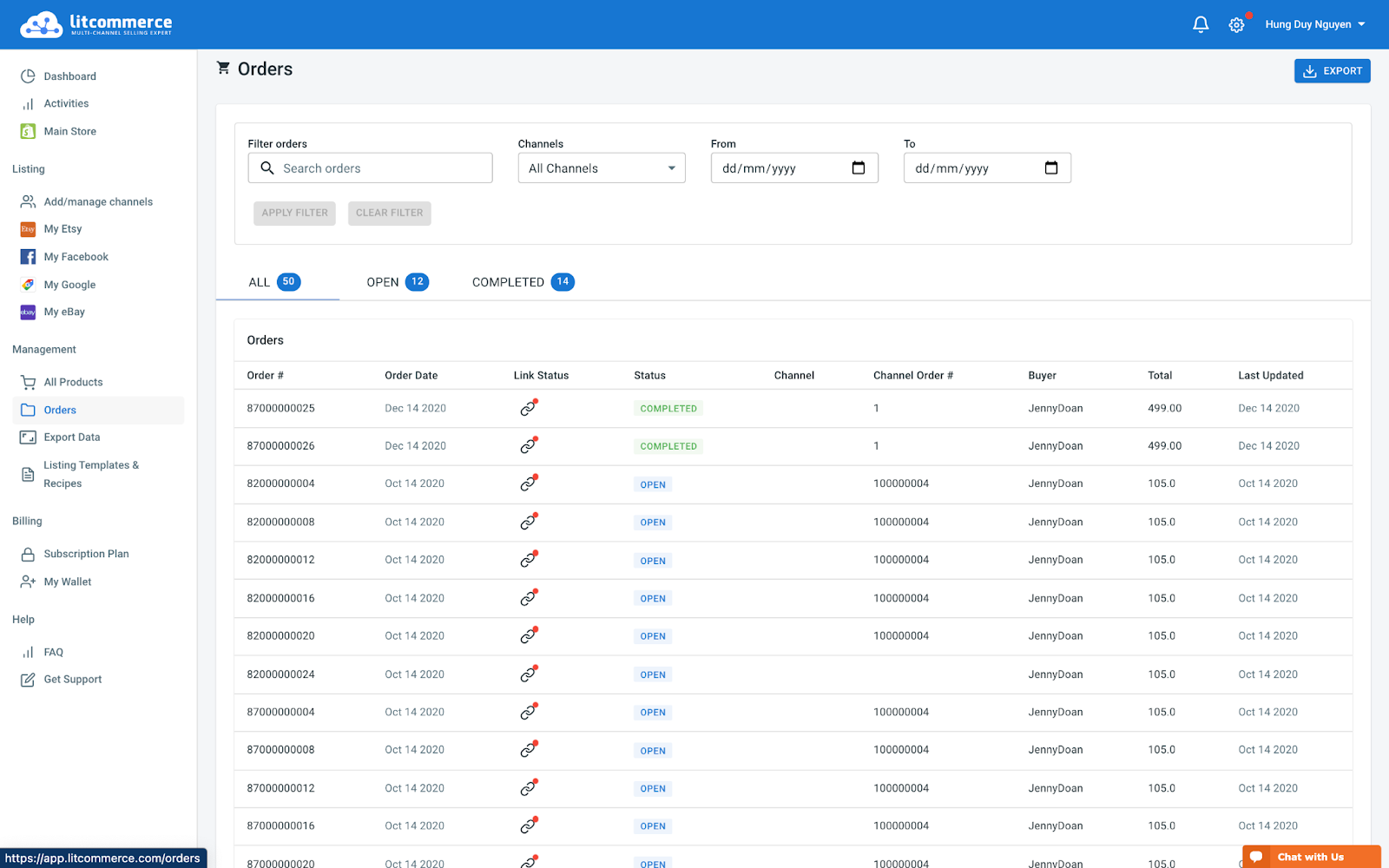 From buyer's name, and order status to channel order number, and other crucial details. You can view and keep track of all of them from LitCommerce's order management center.
Unlocking new sales channels can be a daunting task for any eCommerce seller. Fortunately, with Shopify Amazon integration, you can connect your online store with both Shopify and Amazon in just 4 simple steps. Still confused about the guide? Don't hesitate to Chat with Us for more assistance.
Let's embark on a journey of growth and success with LitCommerce Shopify Amazon integration.