Shopify eBay Integration Guideline
LitCommerce is the easiest and most affordable solution for any seller who wants to simplify the manual workload when selling on various sales channels at once.
With LitCommerce, you can integrate multiple selling channels, including Shopify and eBay, any minute now. You will also be able to manage everything, from importing products from eBay to Shopify to fulfilling orders, from a central system accurately and constantly.
Here's how you can integrate Shopify with eBay in 4 simple steps using LitCommerce.
Step 1: Link Shopify to eBay using API 
Step 2: Import products from Shopify to eBay and vice versa 
Step 3: Turn on Shopify eBay sync (pricing, inventory, and order) 
Step 4: Manage integrated order flow 
Shall we start?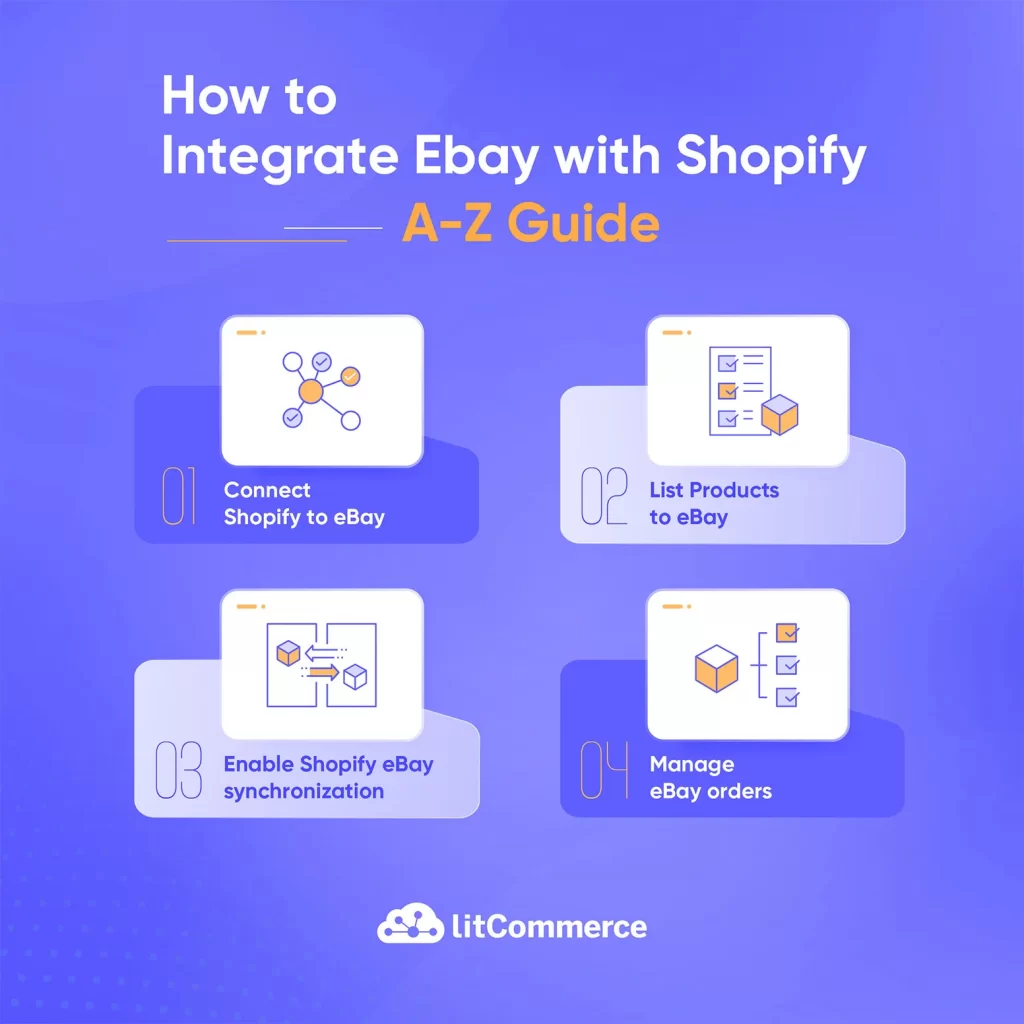 #Step 1: Connect Shopify with eBay using API
Before we start, you can skip these walls of text by taking a look at the below video. Or else our detailed guidelines to integrate Shopify with eBay are right below.
First, go to litcommerce.com/login to create a new LitCommerce account, or you can log in using your Facebook or Google account.
Next, choose Shopify as the Main Store. It is worth noting that you must have your Shopify store created before starting to integrate with eBay.
Now, at the Setup First Channel section, click on the Connect button under Shopify. It's time to fill in the URL and API Password. In case you have yet to know how to get Shopify API, click and watch our intuitive instructions on how to get Shopify API keys.
After that, to integrate Shopify with eBay, select eBay as your additional sales channel in the Setup First Channel section.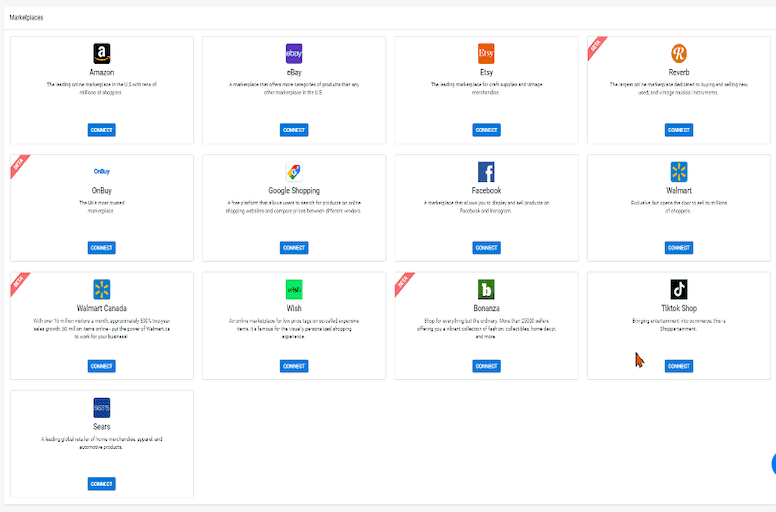 You have to choose a nickname for your Channel and enter it in the field, then continue by selecting the region where you want to locate your store.
Afterward, to integrate Shopify with eBay using LitCommerce, hit on Connect Your Account.
#Step 2: List Shopify products on eBay or vice versa
After successfully connecting Shopify with eBay, all your Shopify products will be automatically imported to the LitCommerce dashboard, which saves tons of time and effort.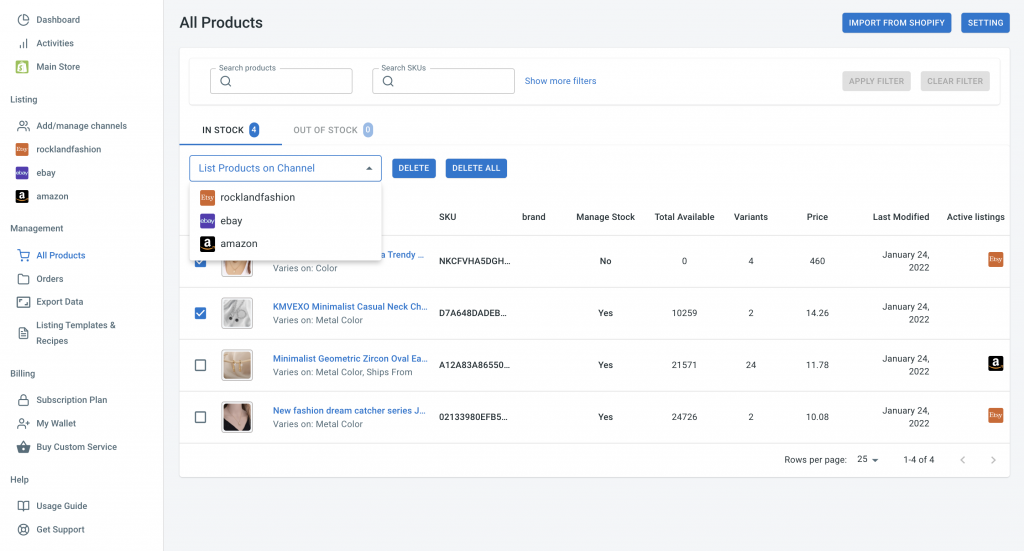 Once it's done, choose eBay from the List products on the channel dropdown menu, and now you can select the products you wish to list on eBay.
The system will create and redirect you to draft listings on your channel page, then send you a notification saying Draft listings were successfully created. Now you can edit draft listings or make any changes before they go live.
Particularly, when it comes to listing editions, LitCommerce users can choose either Single or Multi-edit mode.
Single mode: This helps you edit listing individually. When using the Single edit mode as you integrate Shopify with eBay, you need to fill in product details, including specifications, images, titles, shipment, etc.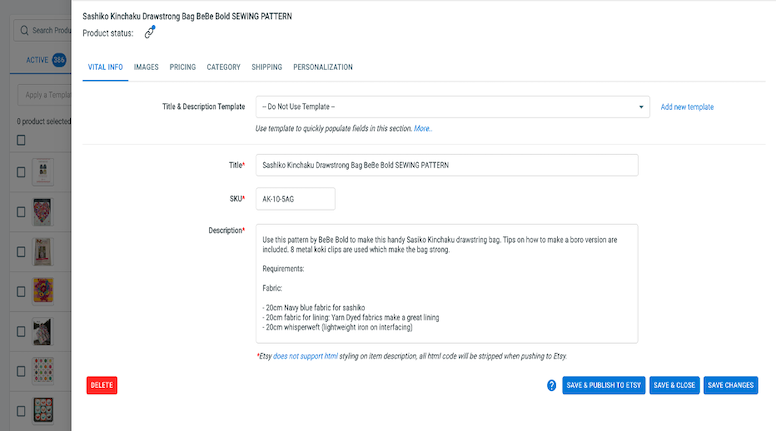 Multi-edit mode: On the other hand, Multi-edit mode is a smart and effortless way to adjust your listings before you publish them on Shopify and eBay. While using Multi-edit mode, you will be directed to a spreadsheet interface that lets you monitor and adjust all listings.

Notes: You can either list Shopify products on eBay or import eBay listings to Shopify with LitCommerce integration app.
#Step 3: Enable Shopify eBay sync
LitCommerce allows you to sync Shopify eBay inventory, pricing, and order so that any changes in these sections will be matched on all channels.
Continuing to integrate Shopify with eBay, choose eBay from the main dashboard and click Channel Settings at the top right corner.

To turn on Inventory sync, simply enable the switch button, then click Save. Now you are ready to list and sell products on Shopify and eBay at the same time. By switching on Inventory sync during your eBay to Shopify integration, you can alter and control product quantities on each channel, with you being the rule maker. 

To customize how your prices are displayed on your eBay store, you can create price rules in the Pricing sync. You can then change the price of all eBay listings by a fixed amount or by a percentage. The rules will be applied to all listings once you've set them.

In the case of selling overseas, you can use the Price Rules feature for currency conversion. Go to Google.com and search for the current exchange rate from your Main store currency to the currency of your sales channel:
If the rate is greater than 1, then subtract 1 from the rate and multiply the result by 100. Choose Increase in the first box.
If the rate is smaller than 1, then subtract the rate from 1 and multiply the result by 100. Choose Decrease in the first box.
Enter the result in the Price Adjustment section and set the unit to Percent (%).

Scroll down to the bottom and click on the button next to Import Orders to Main Store. Through using the Order sync function of the LitCommerce Shopify eBay integration app, you can now supervise and fulfill your order flow from both channels in just one place. However, it is worth noting that you can only make use of Order sync after turning on Inventory and Pricing sync.
Note: If you want to enable Import Orders to Main Store, please enable Inventory sync first. If Inventory sync is turned on, LitCommerce will "pull" orders from marketplace channels to the app. Only then can the orders be imported to your Main store.
#Step 4: Manage eBay orders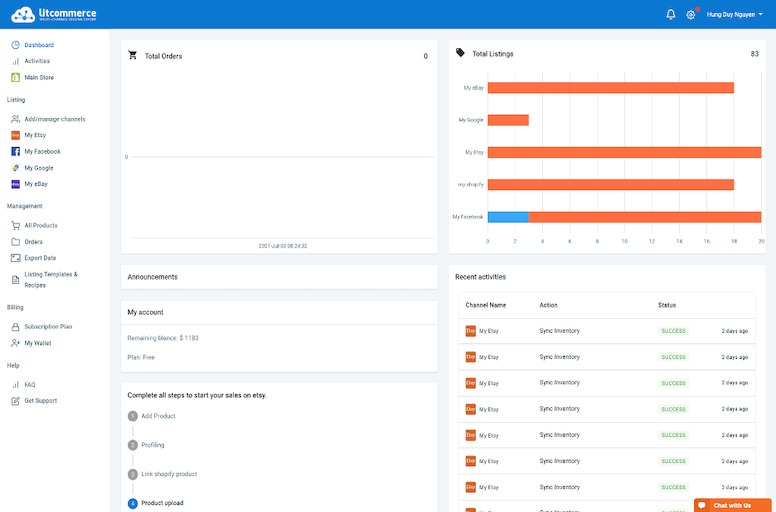 Congratulations, you've successfully integrated Shopify with eBay! From now on, instead of switching between two tabs and manually processing each and every order, you will fulfill orders from a single channel only. All order details will be automatically updated on your Shopify dashboard through LitCommerce, so you to monitor them easily.
In addition to streamlining your order fulfillment process, why not take it a step further and create your own payment system? By developing one, you can offer a seamless and customized checkout experience for your customers.