WooCommerce Facebook Integration Guideline
LitCommerce is a user-friendly and cost-effective solution for sellers looking to simplify their workload when selling on multiple sales channels simultaneously. By integrating with LitCommerce, you can easily connect various selling channels, such as WooCommerce and Facebook, and efficiently manage everything from product importation to order fulfillment within a centralized system.
#1. Connect WooCommerce and Facebook
#2. List products on Facebook
#3. Sync WooCommerce and Facebook
#4. Manage Facebook orders on WooCommerce
Here are the 4 simple steps to integrate WooCommerce with Facebook using LitCommerce:
Step 1: Connect WooCommerce with Facebook
To begin, create a new LitCommerce account or log in using your Facebook or Google account. Select WooCommerce as your main store and proceed to the next step of downloading the LitCommerce plugin on the platform.
After that, provide the necessary information to establish the connection between LitCommerce and your WooCommerce store.


Once connected, proceed to link your Facebook account as an additional sales channel. Choose a nickname for your channel and select your desired location.
Check out thee video on how to connect to Facebook:
Step 2: Import Products from WooCommerce to Facebook and vice versa
After successfully connecting WooCommerce with Facebook, all your WooCommerce products will be automatically imported into the LitCommerce dashboard, saving you time and effort.
To list products on Facebook, select Facebook from the "List products on the channel" dropdown menu. Choose the products you wish to list on Facebook, and the system will redirect you to the draft listings page.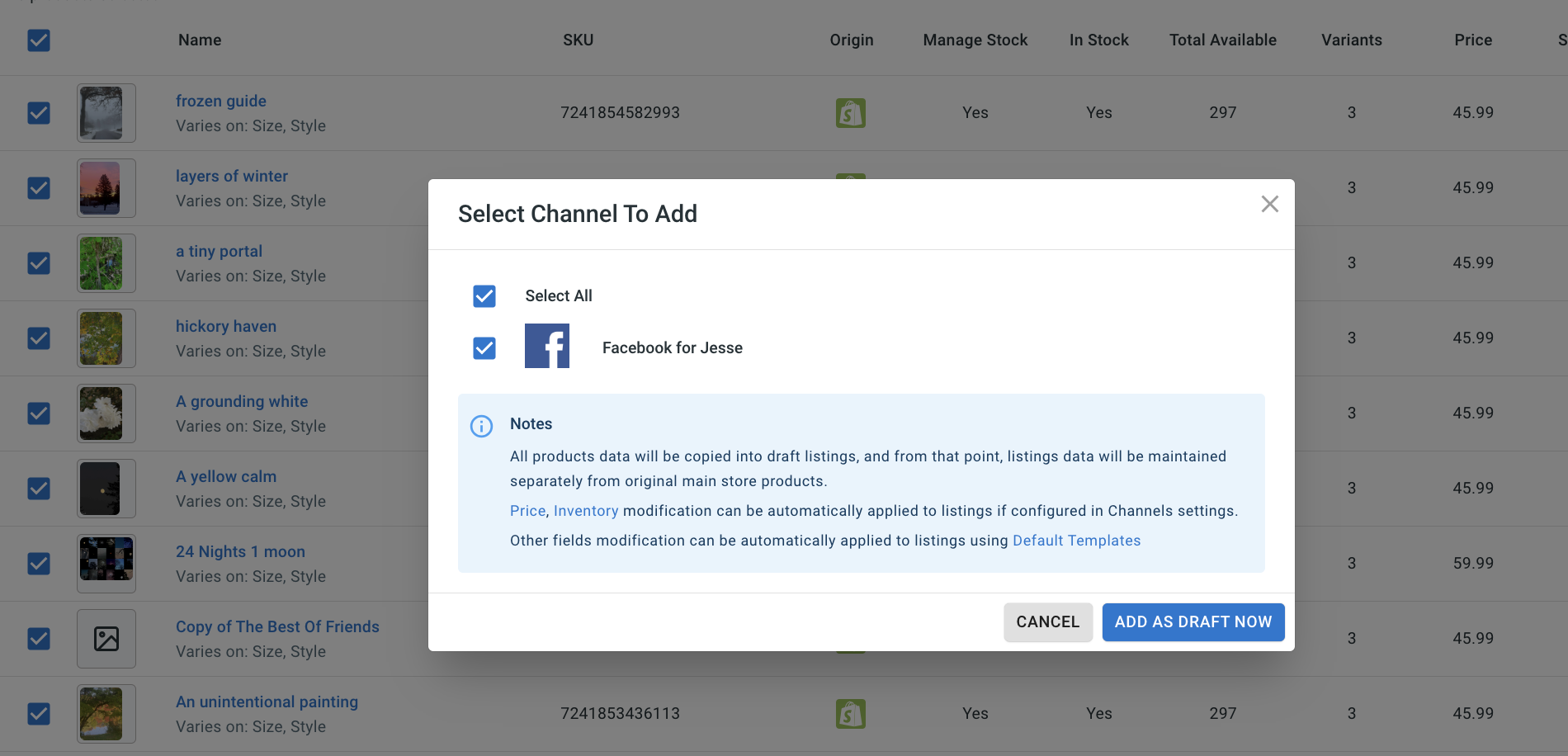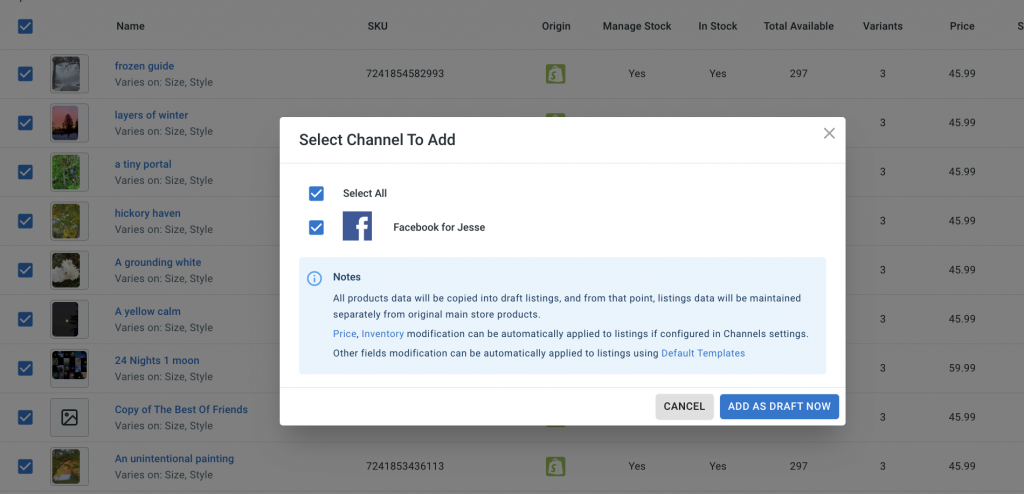 Make any necessary edits or modifications before publishing the listings.
Step 3: Enable WooCommerce Facebook Sync
LitCommerce offers seamless synchronization of inventory, pricing, and orders between your WooCommerce store and Facebook. Enable the WooCommerce Facebook sync function to ensure any changes in pricing, inventory, or orders are reflected across all channels.
Access the LitCommerce main dashboard, select the Facebook channel, and click on Channel Settings. Enable the sync options for inventory, pricing, and orders.
Inventory sync: When you enable inventory sync, any updates or changes you make to your product inventory in WooCommerce will be automatically reflected in your Facebook shop. This ensures that your customers will see accurate stock availability across both platforms.

Pricing sync: Similarly, enabling pricing sync ensures that any changes you make to product prices in WooCommerce will be instantly reflected on Facebook. This allows for consistent pricing across platforms, providing a smooth shopping experience for your customers.

Order sync: Lastly, enabling order sync allows you to manage your orders seamlessly. When an order is placed on Facebook, it will be automatically imported into your WooCommerce store, where you can efficiently process and fulfill it. This eliminates the need for manual data entry and helps you stay organized.
Save the changes to initiate the synchronization process.
Step 4: Manage Integrated Order Flow
Efficient order management is essential for successful selling on Facebook. LitCommerce simplifies the order fulfillment process by integrating with your WooCommerce store's dashboard. To manage Facebook orders, access the "Listing" section in LitCommerce, select your Facebook sales channel, and click on Channel Settings.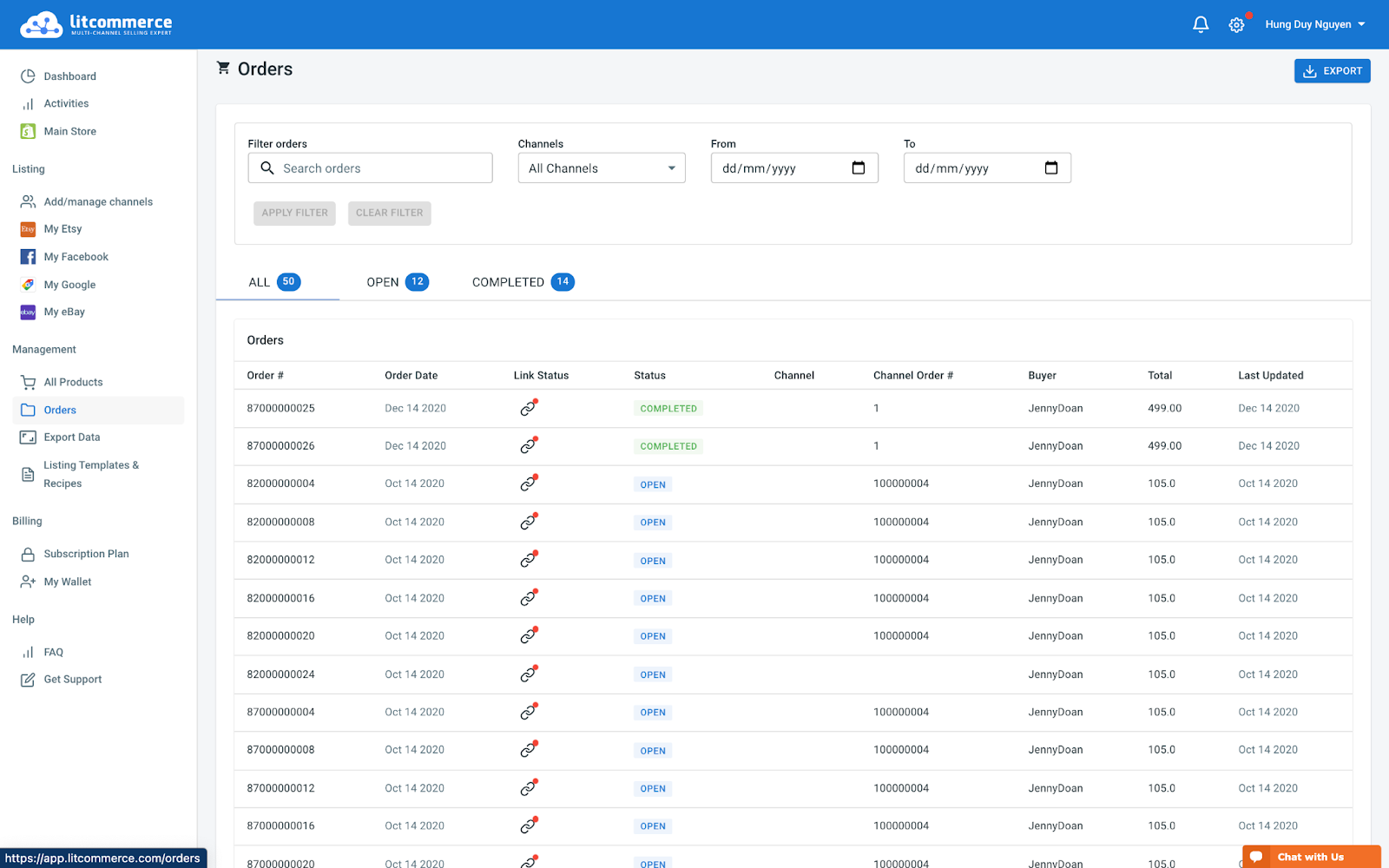 From there, import orders from Facebook into your WooCommerce store's dashboard, allowing you to review and fulfill them conveniently. LitCommerce provides order tracking and efficient fulfillment management through the order page, which includes tabs for All, Open, Completed, Ready to Ship, and Unlinked orders.
By following these 4 steps of integrating WooCommerce with Facebook using LitCommerce, you can streamline your selling process and maximize your success on both platforms. Take advantage of LitCommerce's multichannel integration capabilities and simplify your selling experience.